---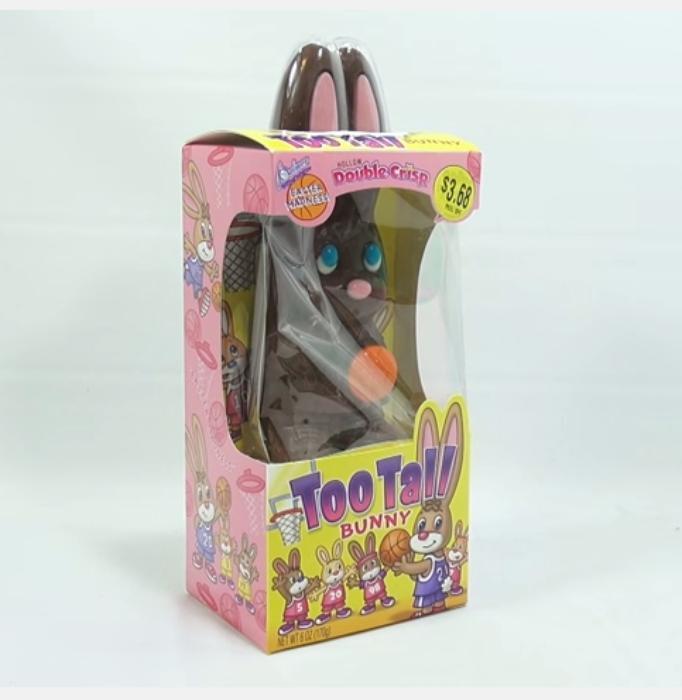 Three different California district attorneys filed suit against candymaker R.M. Palmer Co. last week, alleging that the false-bottomed boxes used to sell Palmer's "Too Tall Bunny" amounted to deceptive packaging.
Courthouse News reports that the district attorneys from Yolo, Sacramento, and San Joaquin County jointly filed a Jan. 9 complaint in Yolo County Court accusing R. M. Palmer of unfair business practices, false advertising and unfair competition.
The "Too Tall Bunny" is a hollow chocolate rabbit sold in a cardboard box topped by a clear plastic dome. That dome is part of the gimmick: the bunny's chocolate ears poke out through the top of the box and into the dome, because the bunny is "Too Tall" for its box.
Except it isn't; the box has a false bottom, and if you open the package and remove the chocolate bunny, you'll see that the bunny, ears and all, is actually a bit shorter than the box.
In this YouTube advertising video posted by an online candy seller (not Palmer) offering the "Too Tall Bunny" for sale, you can see starting at the 1:10 mark that the "Too Tall Bunny" is undeniably shorter than its box without the dome.
But that video was posted last April, and presumably shows the "Too Tall Bunny" that was available for purchase during the 2014 Easter season. Palmer's current offerings might be different, according to Courthouse News:
The label stated: "Oops! I'm too tall for this box," adding to the false perception that the product fills the box, the district attorneys say.
"The extra space provided no benefit to the contents of the packaging and misled consumers," according to the complaint.
Palmer's website now shows a 7 oz. "Too Tall" bunny, with long legs, though previously it had been 6 oz. with short legs - so say the People [of California].
Regardless of how this lawsuit plays out, remember that the outer size of a food or candy package doesn't necessarily indicate how much product is found within, which is why you should always check the unit price of a consumable before you buy it: how many ounces of chocolate does that Easter rabbit (or Valentine's Day box) actually contain, and how does the price-per-ounce compare with other offerings available for sale?
Thanks
Keep an eye on your inbox, the lastest consumer news is on it's way!
Unsubscribe easily whenever you want
---