---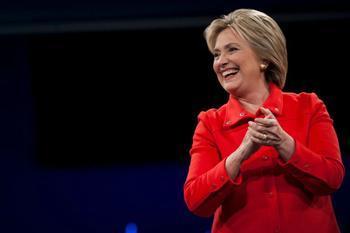 You may have thought FBI Director James Comey's surprise announcement over the weekend that the Hillary Clinton email probe is closed again was the big factor in affecting the race with Donald Trump.
But according to Dish Network, a Clinton victory is baked into America's TV viewing choices. Come January 20, the company predicts, Hillary Clinton will be taking the oath of office.
The "Viewers to Voters" predictive model analyzed anonymous viewership data. Who watches what apparently determines the outcome of the vote. The results show Democrats keeping the White House but Republicans retaining control of the House. The data couldn't get a read on the outcome of Senate races.
Viewership reveals political leanings
The folks at Dish maintain that what you tend to watch on TV reveals your political leanings. For example, it says consumers who watch sports, religious programming, or family-oriented television are more likely to pull the lever for the GOP.
But consumers who watch series and specials, as well as education and music-themed programs, are more likely to support Democrats.
Dish, of course, has access to all this information and its read, based on the numbers it's seen so far, suggests there are more Democrat-leaning viewers than Republican consumers. Of course, the company has no way of knowing who is watching what on DirecTV and other providers, so how reliable can it be?
The company says it deployed the analysis for the first time two years ago, during the mid-term election, and the forecast was 98% accurate.
A different election
True, but this presidential race has been unlike any other in recent memory. One candidate has been investigated by the FBI. The other was caught on tape bragging in vulgar language about his power over women.
In a normal year, it might have disqualified both. But this year, they are somehow running against each other.
What isn't clear from the Dish Network viewership analysis is how many consumers were desperately trying to find something on TV to watch to divert their attention from the election.
---