---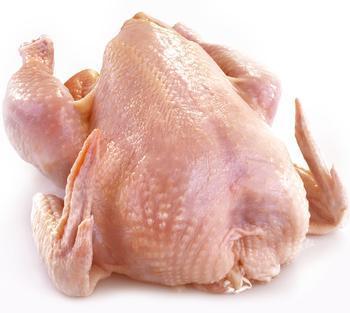 Many people regard chicken as a more healthful food than red meat but a new study by Consumer Reports magazine may cause them to think again. The magazine found bacteria that could make consumers sick on nearly all of the 316 raw chicken breasts purchased at retail nationwide.
The full report, "The High Cost of Cheap Chicken," is featured in the February 2014 issue of Consumer Reports and online at www.ConsumerReports.org.
While Consumer Reports has consistently been testing chicken for more than 15 years, this is the first time it has looked at the contamination rates for six different bacteria – enterococcus (79.8 percent), E.coli (65.2 percent), campylobacter (43 percent), klebsiella pneumonia (13.6 percent), salmonella (10.8 percent), and staphylococcus aureus (9.2 percent).
It also evaluated every bacterium for antibiotic resistance and found that about half the chicken samples harbored at least one multidrug-resistant bacteria.
The researchers also reported that many consumers are confused about labeling and think that chickens labeled as "natural" did not receive antibiotics or genetically modified feed and more than one-third thought "natural" was equal to "organic," none of which is true.
"Our tests show consumers who buy chicken breast at their local grocery stores are very likely to get a sample that is contaminated and likely to get a bug that is multidrug resistant. When people get sick from resistant bacteria, treatment may be getting harder to find," said Dr. Urvashi Rangan, a toxicologist and Executive Director of the Consumer Reports Food Safety and Sustainability Center. "Our survey also shows that consumers are making buying decisions based on label claims that they believe are offering them additional value when that is not in fact the case. The marketplace clearly needs to change to meet consumer expectations."
Consumer Reports' study comes at a time when 48 million people are falling sick and 3,000 dying in the United States each year from eating tainted food, with more deaths being attributed to poultry than any other commodity, according to the Centers for Disease Control and Prevention.
What to do
Consumer Reports advises consumers to follow these tips to ensure proper handling and cooking of chicken:
Wash hands when handling any type of meat or poultry – frozen or fresh – before touching anything else and wash them for at least 20 seconds with hot soapy water – even if it means multiple washings.

Use a cutting board designated strictly for raw meat and poultry. When done, place it in the dishwasher directly from the counter or wash with hot soapy water.

Don't run chicken under the faucet before cooking.

When cooking, use a meat thermometer and always cook chicken to 165°F.

When shopping, buy meat last; keeping chicken cold delays bacteria overgrowth. Place chicken in a plastic bag to prevent other items from contamination.

Buy chicken raised without antibiotics to help preserve the effectiveness of these drugs; avoid meaningless labels like "natural" and "free range".
---