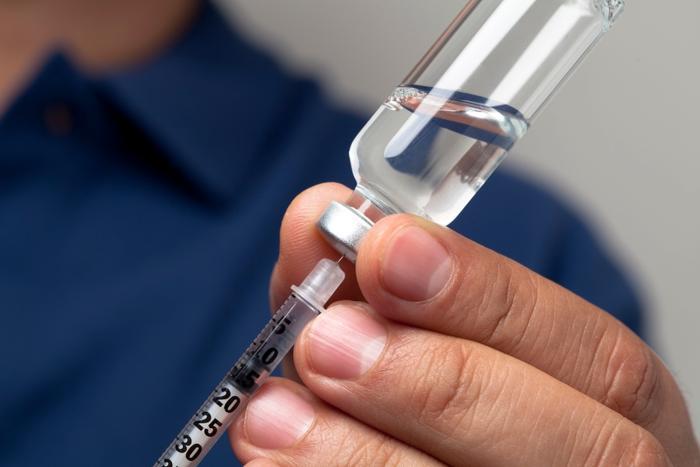 In the initial debate over the high cost of prescription drug prices, insulin seemed to get  overlooked. But no more. The price of the life-and-death prescription for diabetics has soared, and diabetes patients and policymakers want to know why.
Unlike life-saving "miracle drugs" that are produced in laboratories after years of research and at high cost, insulin is a hormone generated by the pancreas, though it can be complicated to produce as a drug. But for diabetes patients whose bodies don't produce enough insulin, it's critical to staying alive.
In recent years, many diabetic patients without health insurance have found the life-sustaining substance is nearly unaffordable. According to one study, the price tripled over an 11-year period starting in the early 2000s. The Health Care Cost Institute reports Type 1 diabetes patients paid an average of $5,705 for insulin in 2016, nearly double what they paid four years earlier.
Health experts say there are a number of reasons for insulin's dramatic price increases. For starters, there is no generic insulin -- all are name brands which tend to carry a higher price.
Two ways to produce insulin
Insulin is produced for diabetes patients in two ways: An animal pancreas can be used to produce insulin, or scientists can produce it in a lab using recombinant DNA techniques. The latter is the most common way drug companies produce the substance.
Because of the high cost, some type 1 diabetics who must take insulin at least once a day have resorted to rationing their prescriptions, a practice that can be dangerous to their health. In a few high-profile cases, patients who rationed their insulin have died, creating pressure on states to act.
Last month, Colorado became the first state to pass a law capping the copay for insulin at $100 a month for people with prescription drug coverage. The cost could be higher for patients with health coverage mandating larger cost-sharing.
Last week, Kentucky Attorney General Andy Beshear filed suit against the U.S.' three largest insulin manufacturers, Novo Nordisk, Sanofi, and Eli Lilly. The complaint alleges that the defendants have "deceptively and greedily" increased their products' prices over the last two decades.
Beshear says the cost of insulin has historically been low because its Canadian creators believed it was important to make it available to diabetics.
Cheaper version of Humalog
In response to the growing pressure, some drug makers have made concessions. In March, Ely Lilly announced a cheaper version of its insulin drug, Humalog.
Lilly said the new version will cost 50 percent less than Humalog, which is used in the treatment of diabetes. The company made it clear that it is responding to growing complaints from consumers and policymakers about expensive drugs.
In April, the Food and Drug Administration (FDA) entered the debate, promising to take steps to drive down insulin costs. One step is changing the way insulin products are regulated.
Insulin is currently classified as a drug. The FDA said regulating insulin as a biologic will allow more insulin products to come onto the market, with the increased competition helping to drive down prices.