---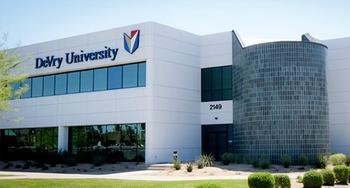 DeVry University has agreed to limit job placement claims as part of a settlement agreement with the U.S. Department of Education, which has been cracking down on the for-profit college industry.
The DOE had charged that DeVry used unsubstantiated job placement claims in recruitment and advertising materials. 
"Students deserve accurate information about where to invest their time and money, and the law is simple and clear: recruitment claims must be backed up by hard data." said U.S. Secretary of Education John B. King Jr.
If a postsecondary institution advertises job placement statistics to recruit students, federal law requires that the institution be able to substantiate the truthfulness of such claims. In August 2015, DOE had asked DeVry to back up its claim that since 1975, 90 percent of its graduates were employed in their field of study within six months of graduation.
No evidence
After reviewing the information that DeVry provided, the department found that DeVry could not provide evidence to substantiate this claim.
The Federal Trade Commission (FTC) has sued DeVry, charging that its advertisements deceived consumers about the job placement rates in graduates' chosen fields of study, and falsely claimed graduates would earn more than those graduating with bachelor's degrees from other colleges or universities. 
Today's agreement settles only the issue of a single, unsubstantiated claim and does not prohibit the Department from imposing future enforcement actions against DeVry in the event of additional findings.
"We are grateful to our federal partners at the Federal Trade Commission for their ongoing support in our investigation," said U.S. Department of Education Chief Enforcement Officer Robert Kaye. "Together, we've put an end to the use of an unsubstantiated claim by this institution, and we will continue our efforts to ferret out similar unlawful practices."
Effective immediately, DeVry University will be participating in the federal student aid programs only through a provisional program participation agreement. As a result of this settlement, DeVry's provisional status may last as long as five years. Moreover, DeVry also agreed that its continued participation in Title IV federal student aid programs will be contingent on complying with additional requirements.
---