---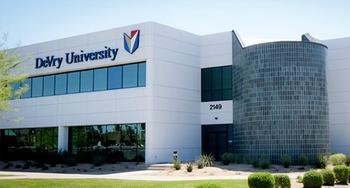 For-profit colleges are barred from receiving more than 90% of their revenue from federal financial aid, but following the collapse of ITT, Corinthian, and other for-profit chains, DeVry says it will accept no more than 85% of its revenue from the feds.
"This is a significant pledge that DeVry Group is voluntarily making for the long term and it underscores our commitment to finding solutions to the issues facing higher education today," said Lisa Wardell, president and CEO of DeVry Education Group. "This is part of a broader effort to improve our policies and demonstrate the quality and value of our programs."
DeVry is working with "a variety of stakeholders on those commitments," which will be announced later this year, Wardell said, adding: "As we continue to engage with key stakeholders, we look forward to sharing details of the other commitments when they are finalized." 
Cracking down
Federal and state agencies have been cracking down on for-profit schools, which tend to enroll large numbers of military veterans and students seeking vocational training. Many such students qualify for federal financial aid, meaning that taxpayers wind up paying for programs that critics say do little to prepare the students for careers.
ITT Institute shut down earlier this month after the Education Department cut off its flow of federal funds. Corinthian College closed down in 2015, leaving many students adrift. It was hit with a $1.1 billion judgment in March, some of which may be available to help students retire outstanding loans.
DeVry has had problems of its own. In January, the Federal Trade Commission sued DeVry, charging it used deceptive advertising to lure students. Last year, the school closed 14 campuses, moving students to its online program.
DeVry Education Group operates schools under several names, including  American University of the Caribbean School of Medicine, Becker Professional Education, Carrington College, Chamberlain College of Nursing, DeVry Brasil, DeVry University and its Keller Graduate School of Management, Ross University School of Medicine, and Ross University School of Veterinary Medicine.
---