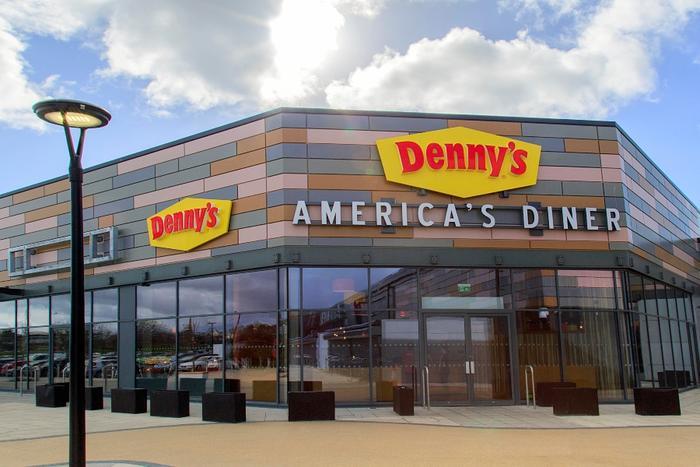 Denny's is the latest restaurant chain to commit to a plant-based burger on its menu. The restaurant, which had been test-marketing a burger made by Beyond Meat at locations in Los Angeles, says it will roll out the offering at more than 1,700 North American locations.
To give the launch an extra promotional push, Denny's says it will offer consumers a free Beyond Burger with the purchase of any beverage at all participating locations on January 30. The free burgers will be available while supplies last from 11 am to 10 pm.
The Denny's Beyond Burger comes nine months after Burger King successfully tested and launched the Impossible Whopper, a plant-based patty from Impossible Foods. Burger King credits the menu addition with a significant boost in sales.
'Positive response'
Denny's says it is the first family dining restaurant group to offer a 100 percent plant-based protein option made with Beyond Meat to its menu. The company said it made the move to help guests move toward a "flexitarian" diet, adding an occasional meat substitute.
"The positive response we received (from the test) validated our decision to partner with Beyond Meat to introduce our guests to a plant-based option," said John Dillon, chief brand officer for Denny's. "We could not be more excited to add the Beyond Burger to our permanent lineup...and expand our menu to meet evolving dietary preferences."
As for the burger, it features a Beyond Burger patty served with sliced tomatoes, onions, lettuce, pickles, and a multigrain bun. The company says the patty is designed to look, cook, and taste like a beef burger.
Denny's says its new burger will also have more protein, less total and saturated fat, and no cholesterol when compared to a regular beef hamburger. It's also produced without using soy, gluten, or GMOs.
Competition for meat substitute products
Beyond Meat competes with Impossible Foods for plant-based meat substitute food products, and both are seeking to align themselves with popular restaurant chains. When Burger King announced it was making the Impossible Whopper part of its permanent menu, it reported that its test market in St. Louis resulted in a 16.75 bump in foot traffic.
Nestle, a long-time producer of plant-based meat substitutes, also launched a vegan bacon cheeseburger in October. At the time, the company said the product would be offered to individual restaurants and food service operators.