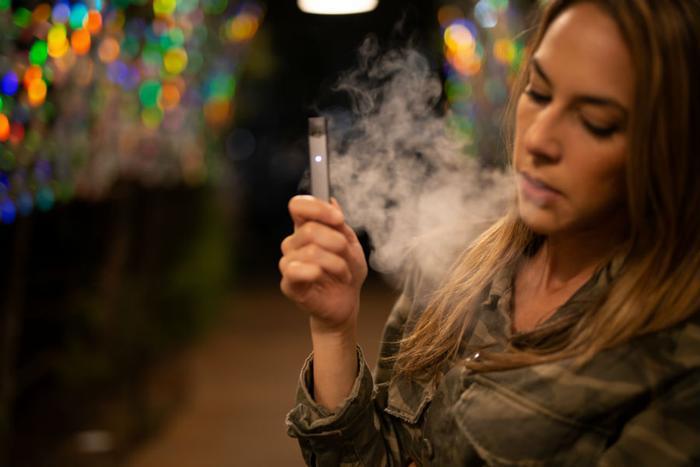 As he left office, Food and Drug Administration Commissioner Scott Gottlieb was highly critical of e-cigarette maker JUUL, charging the company has had a role in the increase of teen "vaping."
But concern about the company is a bipartisan issue, with 11 Democratic members of the U.S. Senate now voicing their concern. In a letter to the company, the lawmakers asked for answers to questions about JUUL's marketing practices.
The Democrats told JUUL they will not only look at how the company markets its product but also investigate its sale of a portion of the firm to Altria, a tobacco company.
"While JUUL has promised to address youth vaping through its modest voluntary efforts, by accepting $12.8 billion from Altria—a tobacco giant with such a disturbing record of deceptive marketing to hook children onto cigarettes—JUUL has lost what little remaining credibility the company had when it claimed to care about the public health.," the senators wrote. "While you and your investors may be perfectly content with hooking an entire new generation of children on your tobacco products in order to increase your profit margins, we will not rest until your dangerous products are out of the hands of our nation's children."
Following FDA commissioner's lead
On his way out the door, Gottlieb took another shot at JUUL, a company he has repeatedly pressed to limit access by underage consumers to their product.
"I hope they recognize the problem that's been created has been created largely by their product," Gottlieb said in an interview with Vox.
During his nearly two years as FDA head, Gottlieb made combating the rise in underage use of e-cigarettes one of the agency's highest priorities. He's previously called out JUUL for its role in creating what he's called a public health crisis, which he's previously described as an "epidemic."
'Public health epidemic'
Sen. Dick Durbin (D-Ill.), one of the senators signing the letter, noted that both the U.S. Surgeon General and the Food and Drug Administration (FDA) Commissioner have called youth use of e-cigarettes a "public health epidemic."
Durbin cites data from the National Youth Tobacco Survey (NYTS) showing 20.8 percent of high-school students and 4.9 percent of middle-school students—more than 3.6 million children—currently use e-cigarettes. Durbin says in the last year children's use of e-cigarettes has increased by 78 percent.
JUUL has defended itself from criticism by saying it makes its product for smokers who are trying to break their addiction to cigarettes. It said it agreed to the investment by Altria because the money it received allows the company to reach more smokers who are trying to quit.