---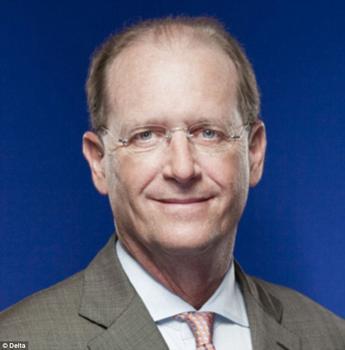 Anyone who's flown Delta in the last few years has seen the welcoming video from CEO Richard Anderson. A few may also have noticed the flight attendants in the galley pantomiming Anderson's speech and imitating his Southern accent.
But one person who didn't recognize Anderson, or make fun of his accent, was Jessie Frank, an Atlanta woman who had been trying to get home from New York last week to pick up her daughter at Camp Kudzu, a summer camp for children with diabetes.
As usual during the summer, thunderstorms along the East Coast had backed up air traffic and snarled schedules. Through various diversions, Ms. Frank wound up at Washington's Reagan National Airport where she was having trouble finding a seat on the next flight to Atlanta.
Things weren't looking good. The flight was filling up and she was number eight on the standby list. She had spoken to a few other travelers and expressed her concern but no one had any ideas. Then, Ms. Frank was told a seat had mysteriously opened up for her and a man wearing a suit helped her with her bag and led her to her seat.
Special guest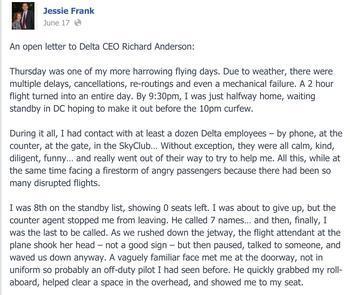 The man then disappeared into the cockpit and Ms. Frank assumed he was an off-duty pilot. Writing on her Facebook page, Ms. Frank told what happened as the flight neared its end.
"As the plane descended into Atlanta, the flight attendant announced that there was a special guest on board," she wrote. "He was riding in a jump seat [in the cockpit], because he had given up his place to allow one more person on that flight."
The "special guest" was Anderson.
"Suddenly I realized that 'familiar face' was not an off-duty pilot,' Ms. Frank wrote in an open letter to Anderson on her Facebook page. "It was you, the CEO of Delta, vaguely familiar from the safety video. It was you, Richard Anderson, who gave up your seat for me. It was you, the Delta CEO, who helped me with my bag. It was you, acting just like an ordinary Mr. Anderson, who showed me to my seat."
A few days feeling normal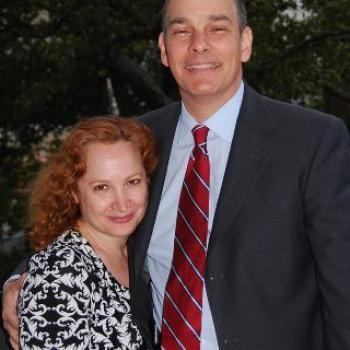 Making it to Atlanta on time meant a lot to Ms. Frank and her daughter, who has type 1 diabetes, she said.
"Camp Kudzu gives my daughter five days a year when she feels 'normal,'" Frank wrote. "Pick-up day gives me a glimpse into that special world where she's just like everyone else, and she's a little bit of a different person for the rest of the day."
"By the next day, it's back to the harsh realities of managing a difficult, deadly, incurable disease that kills one in 20 before the age of 18."
Delta confirmed the story, which has been shared more than 1,700 times on Facebook.
---