---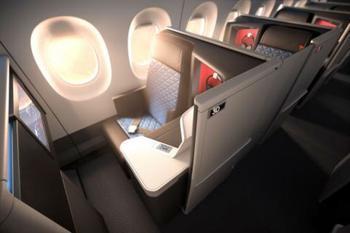 Recently, airlines have been trying to think up new ways to squeeze more passengers on flights. Back in March, United Airlines said it would be adding one additional seat to every row in coach on some of its planes. Moves like this have irked many consumers who think that there isn't enough room to go around on flights already.
Now, in a surprising reversal, Delta Air Lines has announced that it will be providing "suites" to passengers who want to pay for more privacy. The company says that its new Airbus A350 jets will have 32 of these new spaces located in business class.
Each suite comes equipped with a host of amenities, including a full-height door, sliding privacy dividers, customizable ambient lighting, personal stowage spaces, an 18-inch entertainment monitor, universal power outlets, and a high-powered USB port.
Customers looking to sleep through the flight are also in luck. The seats located in these suites will be able to fully recline, making a sort of makeshift bed.
"Delta constantly listens to customers and responds with products that deliver what they want. After setting the standard with the introduction of full flat-bed seats with direct aisle access in 2008, Delta is again elevating the international business class experience," said Delta Senior Vice President and Chief Marketing Officer Tim Mapes.
The new Delta One suites are scheduled to debut in the fall of 2017.
---