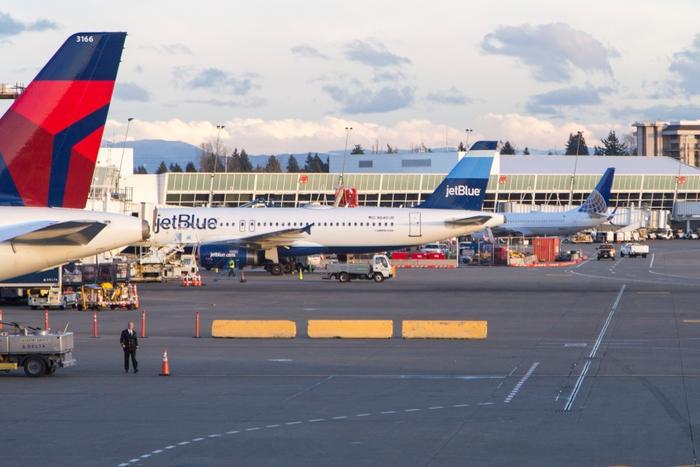 Delta Air Lines and JetBlue have each decided to reduce employee hours in the midst of the coronavirus pandemic, and lawmakers say the action represents a violation of the goal of the Payroll Support Program established under the CARES Act. 
Delta received more than $5 billion in federal support through the program, and JetBlue received $935 million. Despite receiving the money, the airlines still decided to scale back employee hours.
This week, more than a dozen U.S. senators sent letters to the CEO of each airline pushing for an immediate end to the "potentially illegal" action. 
"Your decision to cut employee hours is inconsistent with congressional intent and is a blatant and potentially illegal effort to skirt your requirements to keep workers on payroll, and you should reverse this policy immediately," the senators wrote.
Money doled out as part of the program was supposed to be used to keep front line workers -- including flight attendants, pilots, and mechanics -- employed during the pandemic. Before accepting the funds, airlines had to agree to certain conditions; one condition was that they must keep workers on the payroll through September 30. 
Violates the intent of the law
The senators noted in their letter to Delta that the airline "was reportedly the first airline to cut hours for employees after receiving assistance from the CARES Act." In a letter to JetBlue, the senators pointed out that the airline has slashed hours for mechanics, passenger service agents, and ramp workers after receiving government support.
JetBlue said in a statement that its offer of voluntary time off and unpaid leave programs complied with the CARES Act requirements and was necessary since the payroll assistance only covers two-thirds of costs. The airline also said that due to the drop in air travel due to COVID-19 fears, "there are quite literally no hours for our crew members to work in many places." 
Delta also argued that its action was compliant with the CARES Act and that reducing work hours would ultimately protect jobs. 
But the senators said in the letter that reductions in hours goes against the "clear intent" of the law. The senators said Delta and JetBlue should not accept any more government money unless they are "prepared to protect your workers' jobs, pay and benefits as intended by Congress in the CARES Act."
"Your federal financial assistance is conditioned on keeping your promises to workers," the letters said.