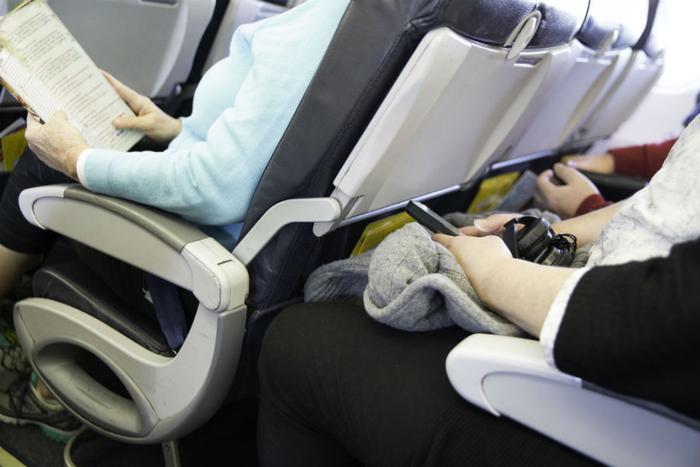 You board your flight, stow your gear in the overhead bin, take your seat, and pick up a magazine to read on the flight.
Suddenly, the seat back in front of you comes back and stops six inches from your face as the passenger sitting in it decides to get comfortable.
Delta Airlines is betting that no passengers like that intrusion into their personal space and will eventually embrace new limits the airline is placing on how far a seat will recline.
Since there are two kinds of passengers -- those who want to recline in their seats and those who resent it when a seat reclines into their space -- Delta is taking sides. It's siding with the people who don't like it and is betting that recliners will come to see that the policy is good for just about everyone.
Testing on Airbus A320 jets
The airline is going to test its new policy first on its Airbus A320 jets, a short-to-medium range narrow-bodied plane. It is cutting the coach seat recline in half, stopping the seat at two inches from the top. In first class, the seat recline is going down a couple of inches to 3.5 inches.
Delta insists it is not making the change to squeeze in another row of seats. It says the move will increase legroom and improve the customer experience for everyone. Travel website The Points Guy quotes Ekrem Dimbiloglu, Delta's director of onboard product and customer experience, as saying Delta is not adding "a single seat" to the A320.
We found evidence that the debate over reclining a seat on an airliner has divided passengers for at least 12 years. In a 2007 post to an airline forum on TripAdvisor "Lexigirl" wrote that she was just learning that some of her fellow passengers were unhappy when she reclined her seat.
Both sides of the issue
"I have traveled a lot, and I always found it more comfortable to recline, and never realized this might be an issue," she wrote. "After all, the seats are made to recline for a reason, Should I have to sit straight up for long periods of time because some tall person in back of me doesn't like me to recline?"
But last month, a ConsumerAffairs reader -- Charles, from Taneyville, Mo., wrote that he was very uncomfortable on an Allegiant Air flight, and that seat recliners didn't help.
"The seats were too close to recline seats," Charles wrote in a ConsumerAffairs post. "I felt like I was back in school riding a school bus. Loud and cramped."
Interviewed in Time Magazine, travel expert Elaine Swann suggests quietly and discreetly asking the passenger in front of you if they could move up a bit, since the back of their seat is pressing against you. But she says it doesn't always work.
Airline seat pitch, the distance between rows of seats, varies by aircraft and airline. It's an important factor in how intrusive a reclining seat is. You can check out the seat pitch for individual airlines here.