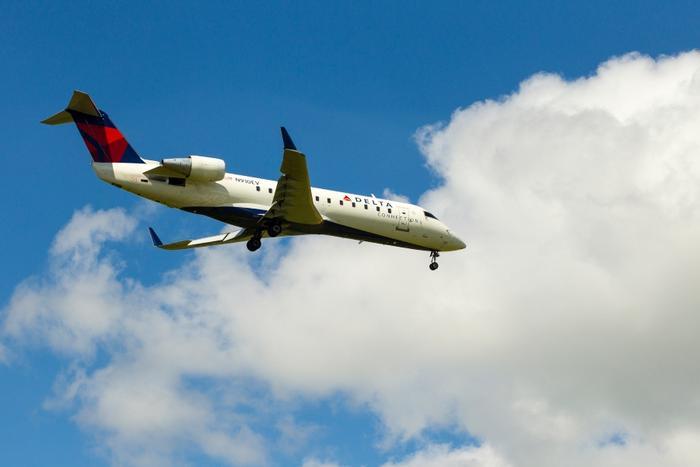 It was a scary moment for passengers aboard a Delta Air Lines flight from Atlanta to Baltimore this week.
Delta's flight 1425, utilizing a 32-year old MD-88 jet, made an emergency landing in North Carolina after passengers heard a loud boom and then saw smoke pouring into the cabin. A passenger seated by a window overlooking the wing shot this frightening video and posted it to Twitter.
The video appears to show a portion of the engine called a spinner that had become detached and was rattling around inside the engine, which also appeared to be on fire. Other passengers reported bits of metal flying off the engine, as though it were coming apart.
The plane landed safely in Raleigh, N.C. and passengers deplaned with no reports of injuries. One passenger told WMAR-TV that the plane slowed down after the incident and the temperature in the cabin began to rise.
"We apologize to our customers for the inconvenience this diversion may have caused," Delta said in a statement. 
The airline said it gave the 148 passengers a $30 food voucher while they waited to be booked on another flight. Meanwhile, the engine has been replaced and the MD-88 is reportedly back in service.
Eerily similar
The incident is eerily similar to an April 2018 incident in which an engine on a Southwest Airlines Boeing 737 jet exploded mid-flight, with metal from the fragmenting engine breaking a window and killing a passenger.
The incident prompted Southwest to step up an inspection of CFM56 engines, the type that failed.
The MD-88 is part of the MD-80 series produced by McDonnell Douglas as an upgrade of the DC-9; it is used mostly for short-haul flights. The company was acquired by Boeing in 1997.