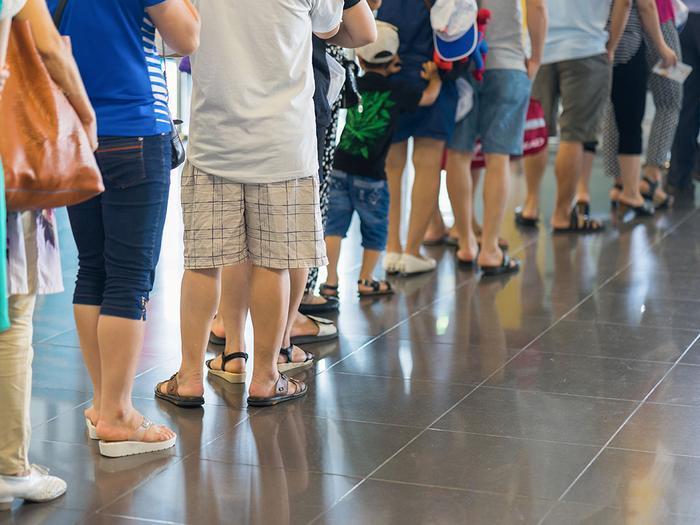 To meet the challenges of airport congestion and to improve passengers' boarding experience, Delta Airlines says it is experimenting with a new approach at its Atlanta hub.
Delta says the changes are designed to streamline the boarding process and will get a tryout at three gates on the T Concourse at Atlanta's Hartsfield Jackson Airport.
First, the check-in counters are getting smaller. Mobile agent pods will have a smaller footprint than traditional gate counters, which Delta believes will open up space and make the boarding area feel less crowded.
Agents will also get out from behind the counter. Using handheld devices, ticket agents will be able to move through the crowd to make seat changes, check bag status, and do other tasks that normally are performed behind the counter, with passengers waiting in a line for help.
Boarding pillars
Delta is also setting up what it calls "boarding pillars," creating four lanes where passengers will line up. The purpose is to improve organization, improve traffic flow, and give passengers a clear path to boarding their flight.
The airline is also experimenting with what it calls "E-Gates," allowing passengers to self-board just by scanning their boarding pass or smartphone.
These changes make up phase one of the pilot project, with phase two increasing agent mobility at the gate and integrating biometric boarding, which is currently being tested at Washington, D.C.'s Reagan National Airport.
"Developing and testing these innovations is an important part of our ongoing effort to improve the gate and boarding process for our customers," said Gil West, Delta's chief operating officer.
West says the airline also believes service will improve because it removes a barrier between ticket agent and passengers.
Whether these changes are expanded to other airports Delta serves will depend on an evaluation at the end of the pilot project. In the last year, Delta says it has replaced ID checks with fingerprint scanning, instituted a biometric-based self-service bag drop and other enhancements to better track luggage.