---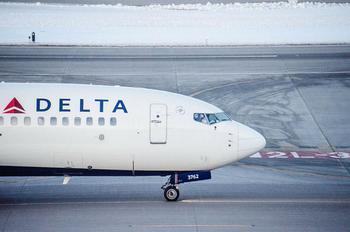 Air travelers are starting the week with a complication that could affect timely arrivals at their destinations.
Delta Airlines experienced a computer outage at its Atlanta headquarters early Monday morning, and as a result its computerized check-in kiosks were disabled at airports around the world. Passengers attempting to use them were instructed to see a Delta ticket agent for a boarding pass.
At midday, Delta said flights had resumed but said 451 flights had been canceled and many others delayed. It is expected to take days for the carrier's flight schedule to return to normal. 
Delta CEO Ed Bastian apologized to customers and said that airline employees are working "all hands on deck" to bring flight schedule back to normal. "While systems are improving and flights are resuming, delays and cancellations continue," Delta said in a statement.
It's the second major airline to experience a meltdown because of computer problems in recent weeks. Southwest canceled thousands of flights last month because of what was said to be a failed router at its Dallas Love Field headquarters, leaving consumer groups to question how well the airlines have thought through the concept of redundancy.
Problem "of Delta's making"
"It is hard for Travelers United to understand how a major airline does not have a backup system for their worldwide reservations network. One of the first things anyone working with computers learns is to backup data," said Charles Leocha of Travelers United, an advocacy group for travelers.
Unfortunately, said Leocha, passengers' options are limited.
"When Delta cancels a flight, passengers are entitled to a full refund. However, passengers in the middle of a trip are at the mercy of the airlines and its ability to move them to to other airlines and its capacity to handle passengers on future flights," he said. 
Delta said it was waiving change and cancellation fees ranging from $200 to $500 and said that affected flights must be reissued on or before August 12, 2016 (Friday). Also, rebooked travel must begin no later than Friday.
If Delta flights from the European Union to the US are delayed for more than three hours, passengers are eligible for €600 (about $660) in compensation.
"Travelers United urges Delta to allow passengers up to a year from the date of cancellation to use their airline ticket funds. Forcing passengers to change their dates of travel and upend their lives because of a Delta mishap is unreasonable," Leocha said. "This is a problem completely of Delta's making, not the fault of passengers. Remedies should recognize Delta's culpability and not restrict consumer rights or force them pay additional airfare or fees."
In a statement Monday morning, Delta warned passengers that "large-scale cancellations" are expected throughout the day.
"All flights enroute are operating normally," the statement said. "We are aware that flight status systems, including airport screens, are incorrectly showing flights on time. We apologize to customers who are affected by this issue, and our teams are working to resolve the problem as quickly as possible."
Hand-written boarding passes
Not only are there long lines at Delta ticket counters, the computer glitch means that boarding passes are being written out by hand. That makes it difficult to board planes on time, which the airline expects will result in delays and flight cancellations.
That, of course, can be expected to impact passengers on other airlines if they are connecting with a Delta flight to get to their destinations.
Delta has issued a waiver for consumers traveling on the airline from August 8 through August 12.
If your flight is canceled or significantly delayed, you will be able to get a refund. Even if your flight is not canceled, you may make a one-time change to your ticket without fee if you are scheduled to travel over the next five days.
Delta passengers can get the latest information from the airline here.
---