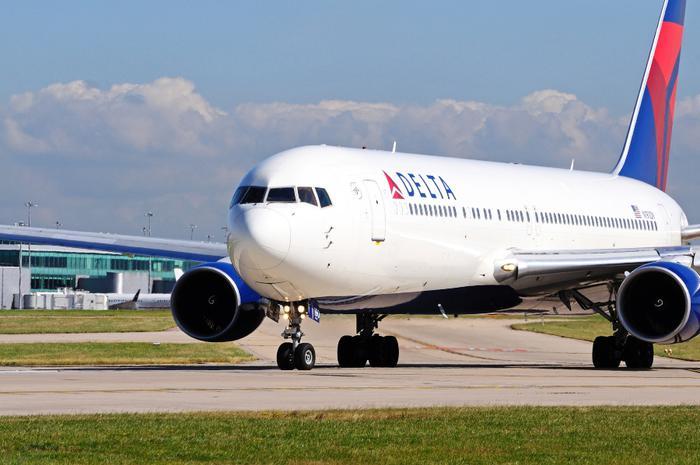 While other airlines are canceling routes and pulling back on sanitization efforts, Delta Air Lines continues to trudge forward with anti-coronavirus moves to keep both employees and customers healthy and safe onboard. 
Adding to its enforcement of facial coverings for all passengers, requiring travelers to certify that their health is in tip-top shape, and mandating that if a passenger can't wear mask that they take a COVID-19 test, the airline is now testing nearly 100 percent of the airline's workforce for the coronavirus by the end of the August. About half of Delta's active employees have been tested so far.
"Our customers want to know that the people caring for them while traveling are healthy," said Joanne Smith, Executive Vice President and Chief People Officer. "Providing COVID-19 testing for all of our people is an important action we can take to keep employees, their families and our customers safe, increasing confidence in travel while doing our part to slow and stop the spread of the virus."
If a Delta employee tests positive
Delta argues that testing its entire 75,000-strong employee roster will reduce exposure to others and ensure that asymptomatic individuals have time to recover at home. To pull this off, Delta has brought in the Mayo Clinic to help develop a strategy based on tailored risk assessments. 
To help create a healthier workplace long-term and curb the rate of infection, the Mayo Clinic will also review and evaluate Delta's health and safety practices on everything from infection prevention measures to workforce risk assessments. If one of Delta's employees tests positive for COVID-19, they will be required to isolate at home for a minimum of 10 days while receiving full pay. 
For employees who have been exposed to others with COVID-19 but have not tested positive, they are required to remain out of the workplace for 14 days from the date of exposure. They will also receive full pay protection. 
Delta is also offering employees the option of being tested for COVID-19 antibodies at all of its major U.S. hubs and at more than 2,000 Quest Diagnostic locations nationwide – free of charge.
Delta's efforts are paying off
While the rest of the world has been waiting for a vaccine or the launch of the newly approved quick-to-administer saliva test, Delta has been working hard to make sure anything a customer touches that's related to the airline is as safe as possible. That effort seems to be paying off.
"The infection rate among our customer-facing employees is below the national average and shows that our Delta CareStandard measures are working," Smith said. "While we're encouraged by our results, we know we can't afford to let up now. Health experts agree that a multi-layered approach – one that includes testing, symptom-checking, mask-wearing, environmental cleaning and physical distancing – are the greatest inhibitors to spreading COVID-19 and will play a critical role in keeping our people safe in the weeks and months ahead."