---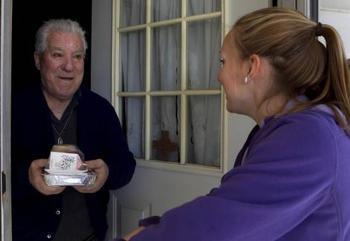 Nursing home care is expensive and many seniors prefer not to live in nursing homes. A new study suggests a simple thing -- like meals delivered to their homes -- may mean they don't have to.
The study looked at states where there is relatively low nursing home occupancy and found a common characteristic. The more these states spent on home-delivered meals under the Older Americans Act (OAA), the lower the per capita population of its nursing homes. The researchers at Brown University conclude providing in-home meals is a major factor in extending independence.
"Despite efforts to rebalance long-term care, there are still many nursing home residents who have the functional capacity to live in a less restrictive environment," wrote gerontology researchers Kali Thomas and Vincent Mor in the journal Health Services Research. "States that have invested in their community-based service networks, particularly home-delivered meals, have proportionally fewer of these people than do those states that have not."
Low-care
In 2009, 12.6 percent of U.S. nursing home residents were considered "low-care," meaning they did not need much of the suite of services that a nursing home provides. That proportion had declined from 17.9 percent in 2000 because of a variety of efforts, including OAA programs as well as Medicaid-sponsored home-and community-based services (HCBS).
But those percentages vary widely between the states. A major reason for that state-to-state variation turns out to be the difference that home-delivered meals can make.
The researchers maintain that for every $25 per year per older adult above the national average that states spend on home-delivered meals, they could reduce their percentage of low-care nursing home residents compared to the national average by one percentage point.
Great Society
The OAA passed in 1965 as part of the Great Society domestic programs. Among all the programs under OAA, home-based meals, which served more than 868,000 people in fiscal 2010, emerged as the only statistically significant factor among federal programs that affected state-to-state differences in low-care nursing home population. Home-delivered meals account for the bulk of OAA spending.
"My 98-year-old granny was able to remain at home, independent in her house until she died, and we have always, even before I did this research, attributed that to Meals on Wheels," Thomas said. "She lived four hours away from any family and refused to leave her house. We had comfort in knowing that every day someone was in her house to see how things are."
Drivers not only bring food every day but also observe the condition of their clients. If the elderly beneficiary doesn't answer a delivery, drivers report that. The volunteers therefore provide food and a "safety check" for many older adults.
---