---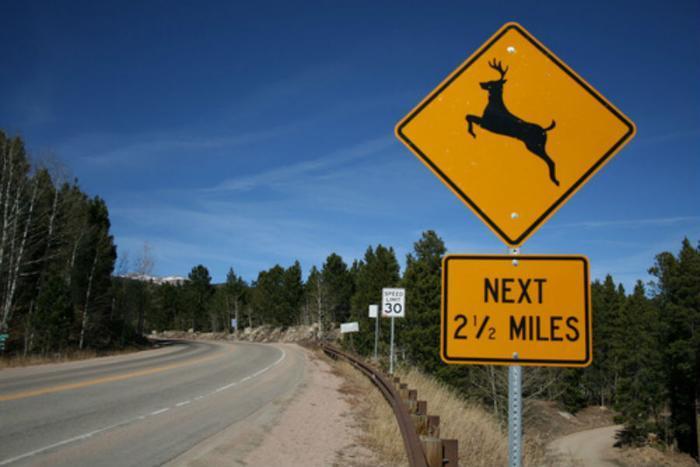 If you are driving through stretches of wooded areas this month, keep a sharp lookout for deer. A survey by State Farm Insurance shows this month tops the list for vehicle collisions with deer.
November, after all, is prime mating season for deer -- and like humans, deer can make extremely poor decisions when their mind is on sex. They are likely to bound out of the woods and into the path of your on-coming car and not give it a thought.
In many states, November is the start of deer hunting season. If hunting dogs are in pursuit of a herd of deer, the animals are running and not paying much attention to where they are going.
The deer population has exploded nationwide in recent years, even in suburban areas, but it remains a fact that states with wide stretches of rural woodlands are most likely to be the biggest threat to drivers this time of year.
Top five states for deer accidents
According to Bankrate.com, West Virginia, Montana, Pennsylvania, Iowa, and South Dakota are the top five states for collisions with deer. The Centers for Disease Control and Prevention reports an average 200 motorists are killed each year from these accidents. Insurance claims, including bodily injury, can easily surpass $10,000.
What does hitting a deer do to your insurance rates? It depends on where you live, but in most states it might not cause an increase.
Pennsylvania is one of those states. State Insurance Commissioner Teresa Miller says insurance companies cannot tack on a surcharge to premiums because a policy-holder hit a deer.
"Under Pennsylvania law, a crash involving a deer is considered a not-at-fault accident, and insurers cannot add a surcharge to your premium for an accident with a deer," she said.
That's because damage from deer-related crashes is handled under a driver's comprehensive coverage, and surcharges are prohibited for accidents with animals or birds. But if you swerve to miss a deer and hit something else, your rates could go up.
Times of greatest risk
The prime time for deer collisions is in the hours just before dawn and dusk. That's when deer are often on the move.
Your best defense against a collision is to slow down while driving through wooded areas. Deer often appear out of nowhere, and the more time you have to slow the vehicle the better your odds of missing the animal. A split second could make a difference.
And when a deer bounds across the road ahead of your car, watch out. Deer usually travel in groups, and the first deer to cross the road is usually not the last. Accident investigators say drivers usually don't hit the first deer they see, but the second or third.
Thanks
Keep an eye on your inbox, the lastest consumer news is on it's way!
Unsubscribe easily whenever you want
---