---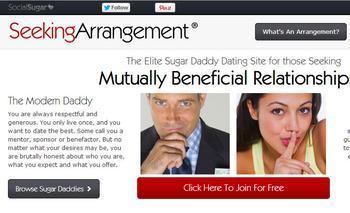 When a consumer signs up with a dating site, they are usually in search of something. And dating sites usually have their niche, based on that desire.
eHarmony, for example, is usually favored by those who are looking for a deep, long-lasting relationship. Match.com by those who want to meet someone new. Busy professionals sometimes favor It's Just Lunch.
But there's a new breed of dating site that is a bit more direct. These are what are called "paid" dating sites. As in, paid to go on a date.
SeekingArrangements.com is one such site, promising to match up "attractive" women with wealthy dates. According to the site, an arrangement is short for "Mutually Beneficial Relationship" between two people.
Mutually beneficial
"At Seeking Arrangement, we believe that successful relationships are all Mutually Beneficial Relationships in that they are two way street, i.e., two people giving as much as they take from each other," the site says.
"So no matter what you are seeking whether it is love, companionship, friendship or some financial help, and whether it will be for a short-term, long-term or life-long arrangement, we hope you will find the perfect match here," the company says on its website. "Remember, it takes time to find your perfect soul-mate, but because you only live once, you ought to have fun while looking for that special someone."
Protection from economic turbulence
The site is currently promoting itself as a way attractive women can protect themselves from fallout from the fiscal cliff. A video on the site advises women that attractive women can improve their financial situation if they date successful and generous men.

WhatsYourPrice.com, which was founded by the same person as SeekingArrangements.com, is even more direct. It's divided into "attractive members" and "generous members." The generous members "bid" for the opportunity to have a first date with he attractive members. A company video describes how it works.
The site also offers "first date ideas" and etiquette tips. The etiquette tips include asking for 50 percent of the payment at the start of the date and 50 percent at the end, and only accepting cash.
---