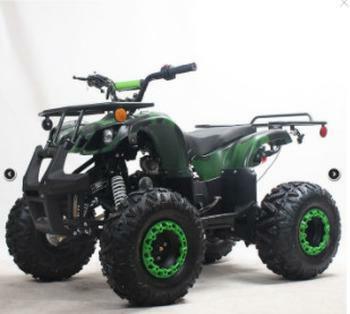 CRT Motor of City of Industry, Calif., is recalling about 100 CRT Motor Youth all-terrain vehicles (ATVs).
The vehicles do not meet mandatory safety requirements. Children can operate them above the maximum allowed speed, increasing the risk of a crash that can cause serious injuries.
In addition, the handlebars could pose a laceration hazard if the rider's body or head hit the handlebars at a high rate of speed, such as in a crash.
No incidents or injuries are reported.
The recall involves CRT Motor's youth ATVs, models DF125AVA and DF125AVB. The vehicles are black, blue, green, green camouflage, pink camouflage, red, and yellow. The model number is located on the VIN plate at the lower section of the front of the frame.
The ATVs, manufactured in China, were sold exclusively at Motorsports Planet stores nationwide from April 2021, through August 2021, for about $200.
What to do
Consumers should stop using the recalled ATVs immediately and contact CRT Motor for instructions on how to receive a full refund.
Consumers may contact CRT Motor collect at (626) 822-1129 from 4 a.m. to 8 a.m. and 5 p.m. to 10 p.m. (PT) Monday through Friday, or online at www.crtmoto.com. Consumers can click on "Recall" at the top of the company's webpage for more information.