---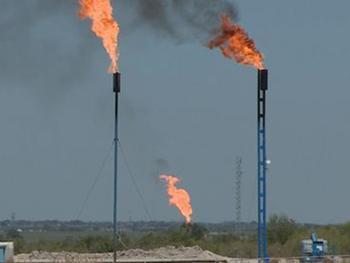 As part of its wholesale rollback of Obama-era legislation, Congress is looking at voiding safeguards that control methane gas leakage from oil and natural gas installations on public lands controlled by the Bureau of Land Management (BLM).
Methane gas is a major contributor to global warming, and critics of the proposal say that eliminating the rules would be the equivalent of adding 950,000 vehicles to the road. 
"Congressional Republicans have shown once again that they're more interested in profiting Big Oil than protecting average Americans. The BLM Methane Rule is a cost-effective, common-sense approach to controlling the waste and pollution created by oil and gas companies," said New York Attorney General Eric Schneiderman.  "A Congressional rollback of this rule would be an annual handout of millions of dollars to oil and gas companies, paid for by taxpayers and at the expense of New Yorkers' and Americans' health, safety, and environment."
Schneiderman and a number of other attorneys general, the California Environmental Protection Agency, and the Oregon Department of Environmental Quality co-signed a letter to Senate Majority Leader Mitch McConnell and Senate Minority Leader Chuck Schumer asking them to block any rollback of existing safeguards. 
"All reasonable precautions"
At issue is the Mineral Leasing Act, which obligates the federal government to ensure that companies on BLM land "use all reasonable precautions to prevent waste of oil or gas."
Last November, the BLM finalized its regulations to reduce the waste of gas from flaring, venting, and leaks from oil and gas production, but now a Congressional Review Act resolution threatens to void those regulations.
The BLM Methane Rule is estimated to save enough gas to supply about 740,000 households each year. Overall, the rule will reduce flaring by an estimated 49 percent and venting and leaks by roughly 35 percent, as compared to 2014 rates.
Eliminating the BLM Methane Rule would potentially result in an additional 180,000 tons of methane emissions per year, roughly equivalent to pollution of up to 950,000 vehicles—or roughly 2.5% of New York's total annual emissions of greenhouse gases, the letter said.
Estimates from the Government Accountability Office predict that rolling back the BLM Methane Rule would cost states, tribes, and federal taxpayers as much as $23 million annually in royalty revenues that are lost to uncontrolled venting, flaring, and leaking. Overall, the rule can potentially save hundreds of millions over the next decade, including savings from the recovery and sale of natural gas and public health costs.
The states noted that if Congress eliminates a rule under the Congressional Review Act, that action blocks agencies from issuing similar rules, meaning that the measure being considered could permanently bar BLM from regulating resource waste, something it is required by law to do. 
Besides Schneiderman, attorneys general from Illinois, Massachusetts, New Mexico, Oregon, Rhode Island, and Vermont signed the letter. Schneiderman has initiated litigation along with states across the country to defend environmental and clean energy policies, including the Clean Power Plan, the "Waters of the U.S." rule, and EPA regulations to reduce emissions of methane in the oil and gas industry
Thanks
Keep an eye on your inbox, the lastest consumer news is on it's way!
Unsubscribe easily whenever you want
---