---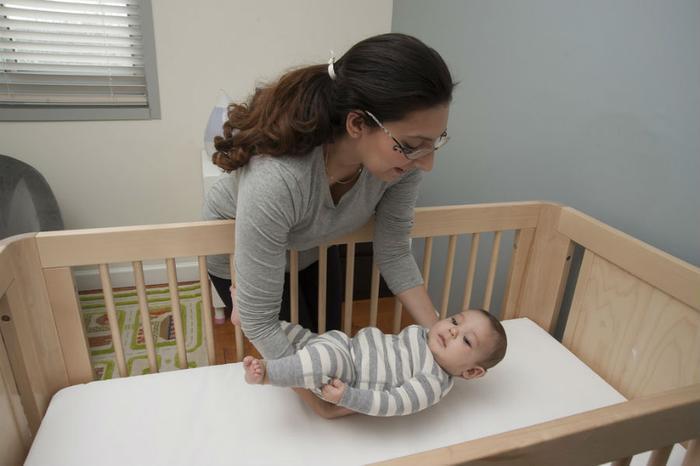 To protect babies from SIDS, it's important that parents and caregivers place babies to sleep in a safe position and environment. In addition to putting babies to sleep on their back, the American Academy of Pediatrics (AAP) recommends keeping bumper pads and soft bedding out of a baby's crib.
Although these guidelines have been in place for quite some time, researchers say advertisements continue to depict unsafe sleep environments in ads for cribs. New research revealed that about 40% of print ads show a crib setup that does not portray a safe sleep environment for babies.
The study found that most ads showed cribs with soft mattresses, bumper pads, loose bedding, stuffed animals, and gaps between the mattress and the side of the crib. The authors say advertisers have made some improvements to what they show but note that there's work to be done.
"Advertisers and manufacturers should encourage new parents to follow guidelines by being the example in their published materials," said lead researcher Dr. Bradley Troxler, emphasizing that it's important that health care providers and advertisers come together to educate parents about safe sleep environments for infants and children.
Racial disparity
The study, published recently in Pediatrics, also found that crib ads often reflected racial disparity. None of the print advertisements examined by the researchers showed a non-white child in a safe sleeping environment.
These findings are important given the fact that SIDS occurs more often in black infants. Troxler noted that there are about 172 cases per 100,000 babies compared with 84 cases per 100,000 for white infants.
The investigators concluded that health care providers should boost their efforts to promote safe sleep practices by educating not just parents and caregivers, but advertisers, stores, and crib manufacturers as well.
Here's what a safe sleeping environment should look like, according to AAP guidelines:
Infants should not sleep in a bed, on a couch, or in a chair with an adult or alone
Sleep areas next to a parent's bed should be a separate bassinet or crib
Clothing should fit the baby and should not be loose or baggy
Refrain from using any extra bedding, blankets, bumpers, and pillows in the crib; a tight, fitted sheet is all that is needed
Toys and stuffed animals should not be in the baby's sleep area
Use a firm safety-approved crib mattress with a fitted sheet
The baby's head should never be covered
Always place an infant on his or her back to sleep
Do not smoke or let anyone else smoke around the baby
---