---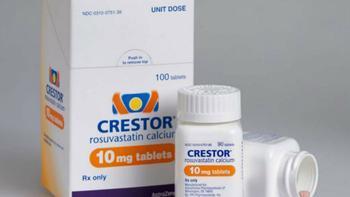 Crestor has for years been a huge moneymaker for its manufacturer, AstraZeneca, and a big drain on the wallets of consumers and insurers. Both those conditions should change now that the FDA has approved a generic version of Crestor, one of the most popular statin drugs, taken to lower cholesterol readings.
With annual global sales of more than $6 billion, Crestor has consistently ranked among the top ten drugs worldwide by dollar volume. Ninety pills of 10 mg Crestor have sold for roughly $630 at U.S. pharmacies. While pricing of the generic has not yet been announced, it is expected to be significantly lower.
"The FDA is working hard to get first-time generic drugs approved as quickly as possible so patients can have increased access to needed treatments," said Kathleen Uhl, M.D., director of the Office of Generic Drugs in the FDA's Center for Drug Evaluation and Research. "The FDA requires that generic drugs meet rigorous scientific and quality standards."
Generic drugs approved by the FDA have the same quality and strength as brand-name drugs. Generic drug manufacturing and packaging sites must pass the same quality standards as those of brand-name drugs.
Crestor and other statins are taken to reduce triglycerides, low-density lipoprotein (LDL) choldesterol, the so-called "bad cholesterol" that is a known risk for heart attack, strokes, and heart disease.
---