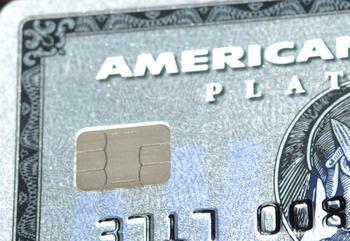 If you're in the habit of being late with credit card payments, now's the time to resolve to do better in 2017. Starting in January, federal rules allow credit card companies to up the penalty for late payments, and American Express has already announced plans to do so.
Starting in January, you'll get hit with a $38 penalty -- $1 more than currently --  if you're late on more than one AmEx payment in a six-month period.  
"There are business costs associated with not paying on time, and late fees are intended to recapture some of that cost," American Express said in a statement.
Amex said "a very small number" of customers miss two payments over the course of six months, but those penalties add up, likely exceeding $12 billion for all card issuers in 2017.
Because American Express makes most of its money from its credit card business, the fees will have a bigger effect on its bottom line than for competitors such as Chase or Bank of America.
CARD Act
Late fees were capped in 2009 with passage of the CARD Act, which limited fees and also required issuers to provide better explanations of the costs of credit.
Prior to passage of the CARD Act, late fees had averaged as much as $39. In 2013, the Consumer Financial Protection Bureau (CFPB) set the limit at $35, but it has been inching up since then.
CFPB studies have found that about 20% of card holders routinely incur late fees. 
The CARD Act's limits on late fees apply only to consumer cards, not to credit cards issued in the name of businesses. A recent study by CreditCards.com found late fees running as high as $49 for some corporate cards.
Cost of credit declined
The CFPB has conducted several studies of the CARD Act's effectiveness and has found that it had reduced the overall cost of credit for consumers. A 2013 study found:
Total cost of credit declined by two percentage points between 2008 and 2012. That includes all fees, interest, and finance charges paid by the consumer to the card issuer.
Over-limit fees have been effectively eliminated. Before the CARD Act took effect, card issuers could charge an over-limit fee for transactions that put cardholders over their credit limit. The report found that consumers paid about $2.5 billion less in over-limit fees than they paid in 2008.
Size of late fees declined. The CARD Act required that penalty fees be "reasonable and proportional" to the relevant violation of account terms. The report found that the average size of late fees diminished, with the average late fee going down by $6 after the CARD Act took effect. 
The CFPB also said that consumers have responded positively to these changes. When JD Power & Associates released its 2013 U.S. Credit Card Satisfaction Study, it showed credit card satisfaction at an all-time high since the inception of the study in 2007. The study reported that customers seemed to be increasingly happy with their credit cards, and JD Power attributed some increased satisfaction to the CARD Act.