---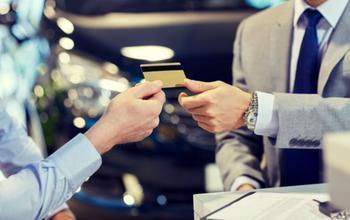 Each November, just before Black Friday, there's a big spike in new credit card accounts. Equifax, one of the three credit reporting agencies, says it's happened each year since 2012.
Between the Sundays before and after Black Friday, Equifax says it has observed an average 50% increase in new credit accounts. New accounts peak on Black Friday itself, when consumers increase new accounts on average three fold.
The last four years have shown a consistent pattern in where these new accounts are opened. Furniture stores open the most, followed by department stores, jewelry stores, electronics retailers, and clothing stores.
Responding to a pitch
But the evidence suggests consumers aren't opening these accounts because they suddenly decide they need more credit. Usually, they are responding to a pitch by a retailer.
"Furniture stores tend to have high-value incentives linked to store credit which drive purchases and likely account for their leading position in terms of credit issuance in the retail credit space," said Gunnar Blix, deputy chief economist, Equifax.
But Blix says even when bombarded with these incentives, Equifax has noticed "a modest trend toward consumers showing more restraint in credit card usage."
That's probably a good thing, because responding to a store's offer of a discount if you will open a store credit card on the spot is not always attractive for every consumer.
Cash-back credit card a better deal
For example, if you carry a cash-back credit card, it's probably a better deal to use that, especially if it is a big ticket item and you plan to carry a balance for a while.
CreditCards.com recently reported that store-branded credit cards are pretty expensive for consumers who carry a balance. It cited research showing Big Lots charges 29.99% interest on its store card, Zales charges 29.24%, and Staples charges 28.24%.
On average, store cards charge 23.84% interest, more than 8% higher than the average credit card. And while retailers usually offer consumers some kind of incentive to sign up for a card, it usually carries a value of around $25, the study found.
"With their outrageously high APRs, most consumers would be wise to steer clear of these cards unless they're 100% certain they can pay their balance off every single month," said Matt Schulz, CreditCards.com's senior industry analyst. "And even then, there are plenty of general-purpose credit cards with better sign-up bonuses."
An exception, of course, is if a consumer doesn't have very good credit and does not have access to a rewards credit card. In that case, a store charge account could help build credit, assuming payments were made on time. But the higher interest rates should definitely be a concern for those consumers planning to carry a balance on a higher interest store card.
Thanks
Keep an eye on your inbox, the lastest consumer news is on it's way!
Unsubscribe easily whenever you want
---