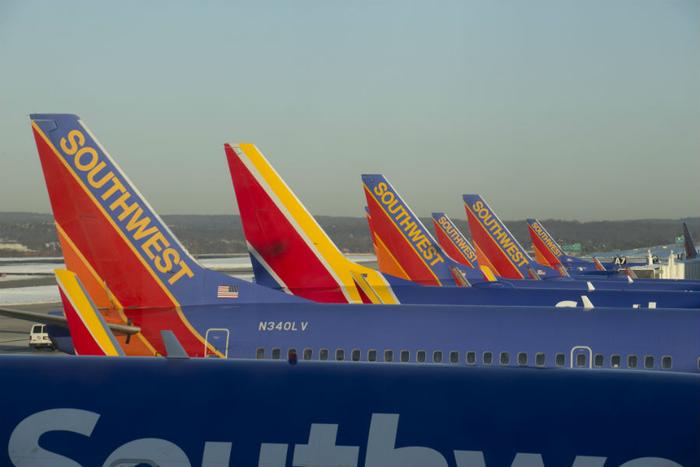 Southwest Airlines flight 957 made an unscheduled landing in Cleveland Wednesday after a window in the passenger cabin cracked.
The flight, from Chicago to Newark, landed safely. The airline said there were no injuries and stressed that it was an "unscheduled" stop and not and "emergency" landing.
"There are multiple layers of panes in each aircraft window," Southwest said in a statement. "No emergency landing was declared. The aircraft maintained pressurization, and the flight landed uneventfully in Cleveland."
The incident comes nearly two weeks after Southwest Flight 1380 lost a window when the left engine exploded, shattering one of the Boeing 737's windows with debris. The plane lost pressurization and the passenger sitting next to the window died when she was nearly sucked from the plane.
The jetliner landed safely in Philadelphia, piloted by 56-year old navy veteran Tammi Jo Shults, who won praise for her professionalism, skill, and calm demeanor.
Passengers react with fear
According to passenger Tweets posted by DansDeals, passengers sitting near the cracked window on flight 957 left their seats in fear. The airline said the unscheduled landing was made out of an abundance of caution.
"The aircraft has been taken out of service for maintenance review, and our local Cleveland employees worked diligently to accommodate the 81 Customers on a new aircraft to Newark," the airline said.
Southwest has not said what it thinks caused the window to crack. It said there appeared to be no problems with either of the two engines.
Last month's fatal accident was caused by a metal fan blade in the engine breaking, causing the engine to partially come apart. Some of the debris struck a window with enough force to shatter it.
In the wake of that accident Southwest announced an acceleration of its program to inspect CFM56-7B engines used on its Boeing 737 aircraft. The Federal Aviation Administration (FAA) also said it will issue an airworthiness directive that will require inspections of certain CFM56-7B engines.