---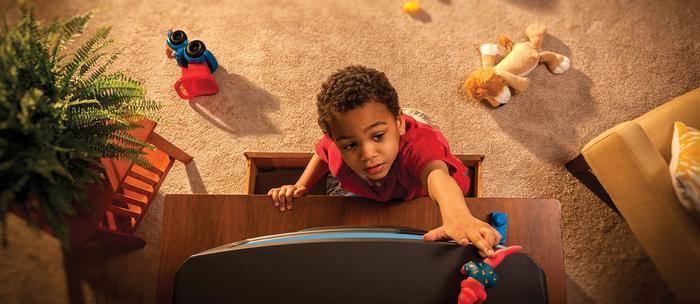 Unstable and unsecured TVs and large pieces of furniture kill a child every two weeks, on average, in tip-over incidents that are easily preventable, according to the Consumer Product Safety Commission (CPSC).
For that treason, the agency has launched "Anchor It!" -- a national public education campaign to prevent furniture and TV tip-overs from killing and seriously injuring children.
CPSC data show 38,000 people go to emergency rooms each year with injuries related to tip-overs of top-heavy furniture or televisions placed on furniture, instead of a TV stand. Two-thirds of those injuries involved children younger than five. Additionally, between 2000 and 2013, 84% of the 430 deaths reported to CPSC involved kids under 10.
A recent CPSC report found that a TV tipping over from an average size dresser falls with thousands of pounds of force -- that the impact of a falling TV is like being caught between two NFL linemen colliding at full-speed -- 10 times.
"Every 24 minutes in the U.S. a child goes to the emergency room because of a tip-over incident involving furniture or a TV," said CPSC Commissioners Marietta Robinson and Joseph Mohorovic. "We must take action now. CPSC's new 'Anchor It!' campaign is a call to action for parents and caregivers to 'get on top of it, before they do.' If we can prevent one more death, it will be worth it."
Public education
The "Anchor It!" campaign includes broadcast public service announcements (PSAs), print PSAs, and an informational site (www.AnchorIt.gov). The site outlines the dangers of tip-overs and explains how easy it is to anchor furniture and TVs properly.
The PSAs show a hazard in the home that is unknown to most parents, yet has a simple solution. Outdoor billboard PSAs for buses and subway trains will supplement the television PSAs.
Foundations, organizations, and companies will collaborate with CPSC and serve as "Anchor It! Advocates," to deliver safety messages to their communities and participate in earned and social media efforts.
In addition, HGTV star Tiffany Brooks, an interior designer, wife, mother and HGTV host, will serve as an Anchor It! campaign spokesperson, along with CPSC Commissioners Robinson and Mohorovic.
What to do
Cards and posters providing tips and describing the hidden dangers of tip-overs, as well as the simple steps to eliminate these dangers, are being distributed to parents and caregivers of toddlers at daycare centers and pre-schools. These safety steps advise consumers to:
Buy and install low-cost anchoring devices to prevent TVs, dressers, bookcases or other furniture from tipping.
Avoid leaving items, such as remote controls and toys, in places where kids might be tempted to climb up to reach for them.
Store heavier items on lower shelves or in lower drawers.
Place TVs on a sturdy, low base and push them as far back as possible, particularly if anchoring is not possible.
If purchasing a new TV, consider recycling older ones not currently used. If moving the older TV to another room, be sure it is anchored properly to the wall.
---