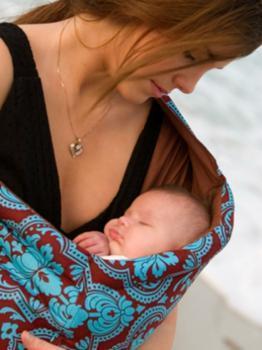 Sling carriers keep infants snuggled up close to their caregiver, which can help strengthen the bond between a mother and her child. Moms who practice attachment parenting are often proponents of babywearing, as research suggests that it can diminish fussiness and aid the development of a baby's emotional, intellectual, and physiological systems.
But baby slings can also be dangerous if proper precautions aren't taken. In 2010, the Consumer Product Safety Commission (CPSC) warned parents of small babies that sling-style carriers may pose a risk of suffocation.
"A very young infant's head will be folded forward. That cuts off the airway, and they essentially suffocate," explained Don Mays of Consumer Reports.
Now, the CPSC has approved a new federal safety standard to improve the safety of infant sling carriers. Per the new standard, all slings must come with a more permanently attached warning label and clear instructions for use.
Preventing deaths and injuries
Sling carriers must be structurally sound and able to carry up to three times the manufacturer's maximum recommended weight, according to CPSC requirements. Additionally, warning labels must be more permanently attached to the sling and instructional literature must be included.
Under the new federal safety standard, warning labels and instructional literature are required to include:
Pictures to show the proper position of a child in the sling.

A warning statement about the suffocation hazard posed by slings and prevention measures.

Warning statements about children falling out of slings, and a

 reminder for caregivers to check the buckles, snaps, rings, and other hardware to make sure no parts are broken.
Wearing babies safely
Parents and caregivers should be cautious when using sling-style carriers for babies younger than four months of age, says the Commission. Without fully developed neck muscles, newborns may be unable to get themselves out of a position that blocks their breathing.
A second suffocation hazard can arise when sling-bound infants are in a curled position with the chin bent toward the chest. The airways can be restricted, limiting the oxygen supply and preventing the baby from being able to cry for help.
To keep infants safe, parents and caregivers should always follow these tips:
Make sure the infant's face is not covered and is visible at all times

If nursing the baby in a sling, change the baby's position after feeding so the baby's head is facing up and is clear of the sling and the mother's body.

Be vigilant about frequently checking your baby in a sling. Make sure nothing is blocking the baby's nose and mouth and that the baby's chin is away from their chest.