---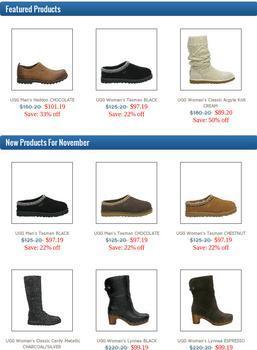 Yesterday we published a story warning you to avoid a scammy Chinese website called Womensbootsforcheap.com, which we learned about after getting a complaint from Jonnette in Vancouver, Wash., who told us the Ugg boots she ordered from them turned out to be the wrong size, style and color, and counterfeit as well.
We used the "Contact Us" feature to email the company and ask for their side of the story, and promised to let you readers know if we heard anything. And, much to our surprise, we did—though not the response we expected.
When we started work this morning, we saw this message from the Gmail address Wellbusiness66 responding to our request for information about Jonnette's claims: "Hi, Please tell me the order number first."
Hmm. Although we emailed Jonnette to request this information, we suspected it was merely a stalling tactic on the company's part. After all: how many Vancouver-resident customers named Jonnette [Unusual Surname] can the company actually have?  
Doesn't matter, as it turns out. When we tried re-visiting the Womensbootsforcheap website today, it was gone. Instead, we were transferred to a GBC Internet Enforcement domain posting a legal notice from the intellectual property law firm of Greer, Burns & Crain:
Deckers Outdoor Corporation v. The Partnerships and Unincorporated Associations Identified on Schedule "A" – Case No. 13-cv-7621 

NOTICE TO CONSUMER

 

This domain was previously held for the sale of alleged counterfeit UGG® products. Control of this domain has been transferred to Deckers Outdoor Corporation, the rightful owner of the UGG® trademark, pursuant to a temporary court order. If you believe that you have been victimized, we suggest that you request a refund from your credit card company…. Deckers took this action to protect the UGG® brand and the consumer from unknowingly purchasing counterfeit products.  The websites listed in the complaint are not affiliated with the genuine UGG Australia brand or Deckers Outdoor Corporation.
We'd like to think the Womensbootsforcheap shutdown was the result of our dedicated journalism efforts, though it could merely be coincidental timing. But the tips we shared yesterday on how to identify a possibly scammy website remain valid. Womensbootsforcheap may be gone, but we can guarantee that plenty of new scam sites will arise to replace it.
Thanks
Keep an eye on your inbox, the lastest consumer news is on it's way!
Unsubscribe easily whenever you want
---