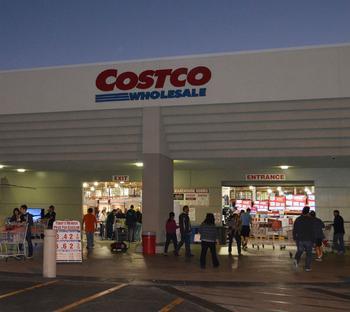 Home delivery of groceries is one of those things that seemed like a good idea at the time. So far, no one has really scored a home run but now Costco is getting into the game. 
In a recent announcement, a grocery delivery service called Shipt says it is partnering with Costco to deliver groceries to consumers' homes; the service opened up yesterday to consumers in the Tampa metro area and will expand to 50 additional markets and approximately 30 million people by the end of the year.
Skeptics abound, however. In a recent Bloomberg report, Kurt Jaffe, CEO of TABS Analytics, said flatly that, "Online grocery is failing." 
Jaffe said that only 4.5 percent of shoppers made frequent online grocery purchases in 2016, up just slightly from 4.2 percent four years earlier despite big investments from companies like Amazon.
"There's just not a lot of demand there. The whole premise is that you're saving people a trip to the store, but people actually like going to the store to buy groceries," Jaffe said, according to Bloomberg. Instead, as we reported today, deep discounters like Aldi have been capturing bigger shares of the grocery business. 
But Shipt obviously thinks it has found the solution. 
"We founded Shipt to simplify the grocery shopping experience, and are pleased to give our dedicated members access to unmatched savings as an extension of their Shipt memberships," said Shipt founder and CEO Bill Smith. "As we continue to scale Shipt on a national level, we look forward to offering more options for delivery to our Florida members today, and to Shipt members across the country in the future."
Potential win-win
The partnership could represent a win-win for both Shipt and Costco if all goes well; Shipt would add another company to its network and Costco could open itself to a wider variety of shoppers, since members of the Shipt service would not need a Costco membership to have items delivered to them, according to the Tampa Bay Times.
Consumers can take advantage of unlimited grocery deliveries by signing up for a Shipt membership, which costs $99 per year. However, the service has said that it will not be delivering electronics, apparel, or furniture to consumers' homes as part of the deal.
As part of an incentive offer, Shipt is allowing consumers in the Tampa Bay area to try out its app for two weeks at no charge and is extending a $15 discount on consumers' first order.