---
Like everything else, the cost of owning and driving your car is higher this year. In its annual study of driving costs, AAA found a 1.96% increase, a whopping 1.17 cents.
That puts the total cost at 60.8 cents per mile, including maintenance, fuel and insurance costs. If you drive somewhere around the national average of 15,000 miles per year, that comes to $9,122 per year.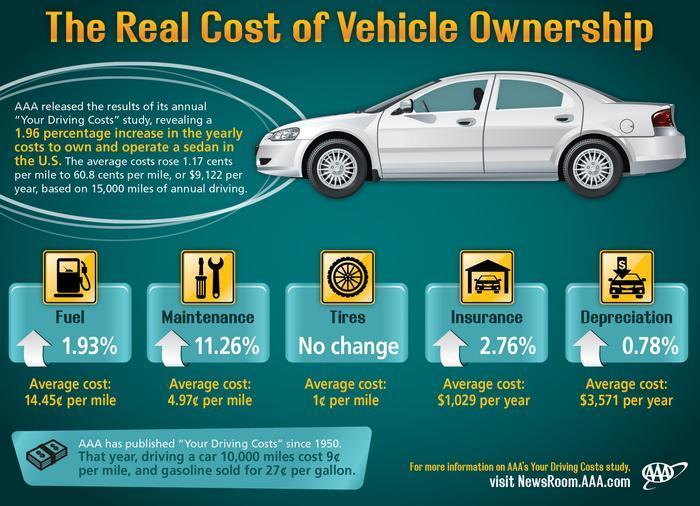 The biggest increase comes not from gas but from maintenance. According to AAA, the cost of maintaining the average car rose 11.26% over the last year. That includes labor, parts and the purchase of an extended warranty.
Does that mean mechanics are getting rich? No, it means that modern cars keep getting more complex and, therefore, more expensive to maintain. Parts are more expensive and mechanics -- or technicians, as they're now called -- require more training, which equates to higher hourly rates.
Fuel costs were up only 1.93% to 14.5 cents per mile on average. That's less than the 3.84% increase in the price of gas, thanks to improved fuel mileage for most newer cars.
Insurance costs were up 2.76% and tire costs remained unchanged, coming in at one cent per mile on average.
"Many factors go into the cost calculation of owning and operating a vehicle," said John Nielsen, AAA Director of Automotive Engineering and Repair. "Before you make any vehicle purchase, it is important to determine ownership and operational costs and compare them to your current and future financial situation."
What to do
What can you do to keep costs down?
The easiest way to save money is to buy a compact car with a gas engine, stick shift and the bare minimum of accessories. This will reduce the purchase price, maintenance and insurance costs and help you save on fuel.
Remember that while a hybrid or diesel-powered car may get more miles per gallon, it will cost a lot more to buy and, possibly, to maintain. Unless you do a lot of driving, the math may not work for you.
And finally, drive moderately. Speeding away from one stoplight only to race up to the next one and slam on the brakes is self-defeating. It wastes gas, wears out the brakes and, should you manage to cleverly slam into the car in front of you, raise your insurance rates.
---