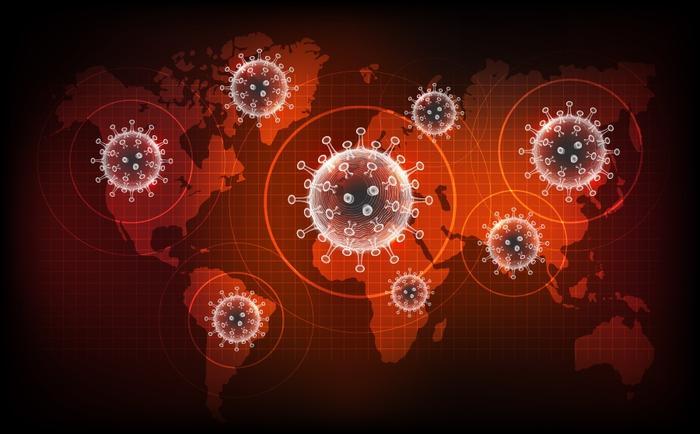 Coronavirus (COVID-19) tally as compiled by Johns Hopkins University. (Previous numbers in parentheses.)
Total U.S. confirmed cases: 257,773 (226,374)
Total U.S. deaths: 6,586 (5,316)
Total global cases: 1,056,777  (981,221)
Total global deaths: 55,781 (50,230)
1 million and counting
As you can see from the above chart, worldwide coronavirus (COVID-19) cases have passed the 1 million mark and today are growing at the fastest rate since the pandemic began.
The U.S. has the most cases of any country -- more than double the number in China where the virus originated -- despite having a significantly smaller population. About a third of the U.S. cases and deaths from the virus are in the state of New York.  
New York Gov. Andrew Cuomo says 562 New Yorkers died from the virus in the last 24 hours. Meanwhile, the governors of Tennessee and Washington are moving to strengthen the lockdowns in their states to slow the spread of the virus.
Small business relief starts today
Banks affiliated with the Small Business Administration's (SBA) 7(a) loan program began writing checks today to small businesses in their area as the government's aid to businesses impacted by the pandemic began.
As part of the CARES Act, Congress has appropriated $350 billion in loans to businesses with 500 or fewer employees. The money can be used to pay rent, utilities, and payroll over a two-month period. If the borrower doesn't lay off any employees in that time, the loan will be forgiven.
But CNBC reports the program is off to an uneven start, pointing to "widespread confusion" among both banks and borrowers. Borrowers report getting conflicting messages from their lenders. Despite the reported confusion, banks had dispensed more than $875 million by noon today.
Dr. Fauci cautions against 'miracle drug' hopes
Pharmaceutical companies may find an effective treatment for the coronavirus, but the highly touted malaria drug hydroxychloroquine may not be it. 
That's the assessment from Dr. Anthony Fauci, a key member of the White House coronavirus task force. He warns Americans against assuming that the drug, which has been around for decades, is a "knockout drug"  in this fight.
"We still need to do the definitive studies to determine whether any intervention, not just this one, is truly safe and effective," Fauci, the director of the National Institute of Allergy and Infectious Diseases (NIAD), told Fox News. "But when you don't have that information, it's understandable why people might want to take something anyway even with the slightest hint of being effective."
From retainers to surgical masks
Teledentistry firm byte has offered its facilities in Ardmore, Olka., and Redlands, Calif., to begin turning out masks, face shields, and ventilator parts to help fight the coronavirus pandemic. 
The company's digital labs and partner facilities currently produce dental specialty products, including dental aligners, and feature over 150 Juell3D printers. These printers will now be used to help make custom parts that are in short supply for healthcare providers across the country.
"During this unprecedented time, we want to do everything we can, in whatever way possible, to step up and contribute," said byte co-founder Scott Cohen. "Every day, we hear of medical supply shortages across the country that are hindering medical professionals from doing their jobs, and we hope this initiative will alleviate some of these shortages. We will continue to do everything in our power to help."
Around the nation
Michigan: Oakland County Circuit Judge Leo Bowman has reportedly thrown two people in jail this week for being late to court, even though the pandemic has shut down most mass transit. The Detroit Free Press reports that the judge is getting some serious shame from the American Civil Liberties Union of Michigan and lawyers for the jailed defendants.

Florida: State officials have relented and allowed a cruise liner with infected passengers to dock today. Fourteen critically ill passengers were removed from the ship on stretchers and taken to area hospitals, which are already reeling from a surge in virus cases.

Utah: Tech startups in the state are working with health officials to help predict where the coronavirus will strike next in the state. The goal is to prevent so-called hot spots from flaring up. So far, Utah has avoided a large number of cases.