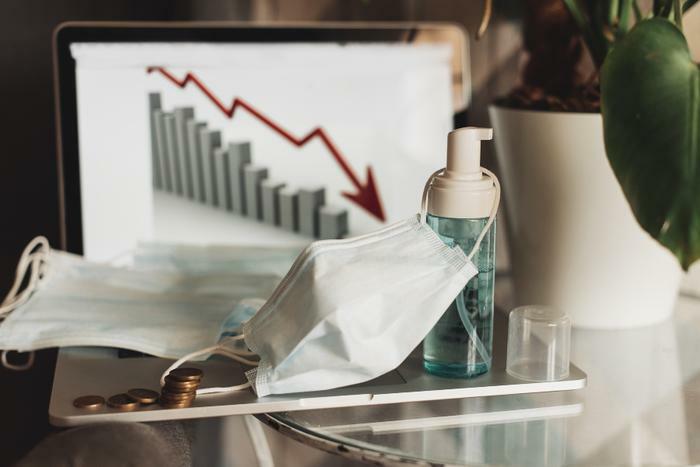 Coronavirus (COVID-19) tally as compiled by Johns Hopkins University. (Previous numbers in parentheses.)
Total U.S. confirmed cases: 26,574,522 (26,446,439)
Total U.S. deaths: 451,454 (447,737)
Total global cases: 104,572,592 (104,043,420)
Total global deaths: 2,273,515 (2,258,460)
Cases, hospitalizations, and deaths all trending lower
The latest surge in the coronavirus (COVID-19) is showing signs of peaking. The number of new cases, hospitalizations, and deaths are all trending lower this week.
While one analysis showed that the U.S. recorded 114,000 new cases of the virus on Tuesday, the numbers are moving in the right direction. Most states are reporting lower new case numbers so far this week.
The COVID Tracking Project at Johns Hopkins University shows hospitalizations are also declining, with 92,880 COVID-19 patients in U.S. hospitals on Tuesday; that's nearly 1,000 fewer than the day before. That number has declined every day over the last three weeks.
Unemployment claims decline again
It may not be a coincidence that the labor market appears to be improving as the number of COVID-19 cases declines. The Labor Department reports that there were 779,000 initial claims for unemployment benefits last week.
That's an improvement over the previous week's 812,000 claims. Economists surveyed by Dow Jones expected the number of jobless claims to rise to 830,000.
Claims for jobless benefits had been rising steadily into the end of the year as the sharp increase in coronavirus cases resulted in new restrictions on businesses. Last week's claims were the lowest since November 28.
Study finds weather is the biggest factor in virus spread
Yes, you should wear a mask in public and maintain a social distance, but a new study finds that you may still be at the mercy of an uncontrollable factor -- the weather.
Researchers at the University of Nicosia, in Cypress, found that hot weather and wind have a bigger impact on virus transmission rates than social distancing during a pandemic. They point to temperature, humidity, and wind as reliable predictors of when an outbreak will peak.
"We propose that epidemiological models must incorporate climate effects through the AIR index," the researchers wrote. "National lockdowns or large-scale lockdowns should not be based on short-term prediction models that exclude the effects of weather seasonality."
California may be ready to reopen schools
After imposing a series of tough restrictions to counter the rising number of COVID-19 cases in the state, California Gov. Gavin Newsom now says he believes public schools can safely reopen, even if not all teachers have been vaccinated.
Teachers' unions in California have a different view. They have pushed to keep classrooms closed until all teachers have received a vaccination against the virus.
"I'd love to have everybody in the state vaccinated that chooses to be vaccinated," Newsom told reporters. "Not only would I like to prioritize teachers, we are prioritizing teachers."
Contemplating mortality
More than 400,000 Americans have died from the effects of the coronavirus, and that fact has a lot of people thinking about their mortality. Millennials were among the largest demographic making out wills in the last 10 months, according to a survey by Trust & Will, an estate planning firm.
The study evaluated the preferences of 20,000 millennials who completed estate planning documents. It found that 78 percent set up a will in 2020, with nearly a quarter of them citing "2020/The Pandemic" as the primary reason for creating an estate plan.
"We saw a huge increase in the number of millennials completing wills last year, which is a positive trend considering that more than 60 percent of adult Americans do not have a will in place," said Cody Barbo, CEO of Trust & Will. 
Around the nation
Michigan: State health officials are allowing restaurants to reopen indoor dining this week, but a poll suggests that they will have no problem keeping capacity low. The poll, which was conducted by a Detroit website, found that 66 percent of people say they aren't ready to return to restaurants right now, with 61 percent saying it's not safe.

Ohio: Health care workers were among the first in line to get the COVID-19 vaccine, but funeral directors are pressing Gov. Mike DeWine to add their employees to the list too. "People who do embalming, I think, make a very strong case. We're actually reviewing that right now," DeWine said. "Certainly, keeping funerals...moving forward is very important, so we are looking at that."

Arizona: A Phoenix couple, Manuel and Sally Montano, met when they were teenagers and fell in love. Tragically, both contracted COVID-19 at the same time, spent their 50th wedding anniversary in the hospital hooked up to machines, and died together a few days later.