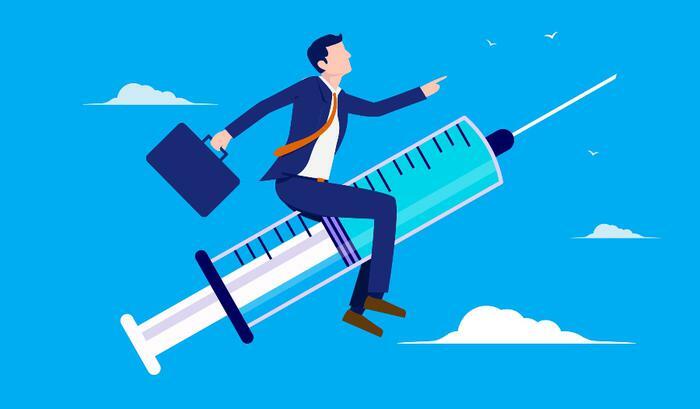 Coronavirus‌ ‌(COVID-19)‌ ‌tally‌ ‌as‌ ‌‌compiled‌‌ ‌by‌ ‌Johns‌ ‌Hopkins‌ ‌University.‌ ‌(Previous‌ ‌numbers‌ ‌in‌ ‌parentheses.)‌ 
Total‌ ‌U.S.‌ ‌confirmed‌ ‌cases:‌ 36,071,850 (35,983,375)‌
Total‌ ‌U.S.‌ ‌deaths:‌ 618,220 (617,704)
Total‌ ‌global‌ ‌cases:‌ 204,286,683 (203,708,052)
Total‌ ‌global‌ ‌deaths:‌ 4,319,262 (4,308,757)‌
Vaccination rate is on the rise
As the Delta variant swept through unvaccinated areas and is now spreading through states where vaccination rates are high, holdouts are apparently changing their attitude. New data from the Centers for Disease Control and Prevention (CDC) shows that the U.S. vaccination rate has nearly doubled in the last 30 days.
As of Aug. 5, the CDC says there have been 441,198 new vaccinations per day. That compares to just 226,209 daily doses reported on July 5.
Alabama and Louisiana, which had among the lowest vaccination rates in the nation, saw the biggest increase in inoculations. Vaccinations also increased in Missouri, where some people reportedly got vaccinated in secret because they feared backlash from anti-vax family and friends.
Biden pushes for corporate vaccination mandate
President Biden is pointing to United Airlines as an example of how corporate America can limit the spread of COVID-19. The airline recently told all of its 67-thousand employees they must be vaccinated by Oct. 25 if they want to keep their jobs.
While there is a growing movement toward vaccination mandates, not all companies are joining in. Three major airlines, Southwest, Delta, and American, say they will not join rival United in requiring employees to be vaccinated.
Delta CEO Ed Bastian told a New York City TV station that about 75% of Delta's employees are already vaccinated, so he doesn't see the need to impose a mandate. CNN cites an internal memo from Southwest CEO Gary Kelly telling employees he "strongly encourages" vaccinations but that the company won't require it.
Study points to faster vaccine development and testing
New research shows how scientists may be able to more quickly develop new vaccines and boosters to combat the coronavirus. It involves doctors being able to immediately test a vaccine recipient to measure antibody production.
Instead of lengthy clinical trials, a vaccine's effectiveness can be quickly demonstrated. The research identifies antibodies that scientists can test for to see if a COVID-19 vaccine is effective. Peter Gilbert, co-author of the study posted Tuesday to medRxiv, calls it "the Holy Grail" of vaccine research.
"The hope is that the Food and Drug Administration will see these data and use them as a provisional approval mechanism," he said.
Around the nation