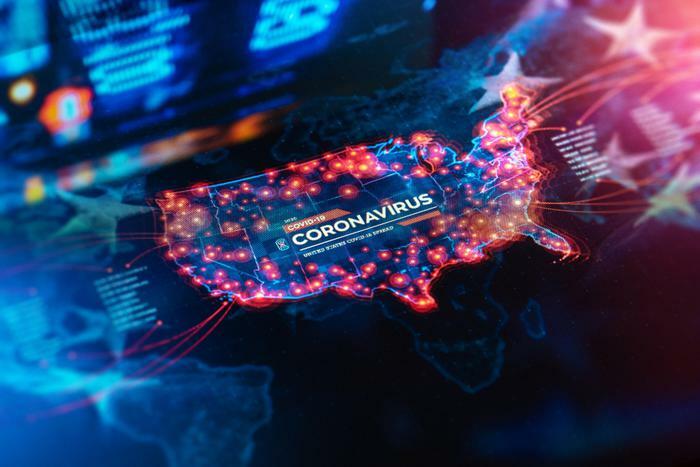 Coronavirus (COVID-19) tally as compiled by Johns Hopkins University. (Previous numbers in parentheses.)
Total U.S. confirmed cases: 30,090,221 (30,015,938)
Total U.S. deaths: 546,915 (545,357)
Total global cases: 125,675,674 (124,971,776)
Total global deaths: 2,757,812 (2,746,581)
CDC sees 7 percent rise in U.S. cases
The director of the Centers for Disease Control and Prevention (CDC) has issued another warning about rising coronavirus (COVID-19) cases. The agency reports that the seven-day average of cases has risen by 7 percent in the last week.
In addition to new cases of the virus, Dr. Rochelle Walensky said new hospitalizations are up "slightly," at roughly 4,700 admissions per day. 
"I remain deeply concerned about this trajectory," Waleknsky said. "We have seen cases and hospital admissions move from historic declines to stagnations and increases. We know from prior surges that if we don't control things now, there is a real potential for the epidemic curve to soar again."
'No-mask' Texas shows no increase in cases
Health officials, who were critical of Texas for removing a statewide mask mandate two weeks ago, have been watching the Lone Star State for signs of a spike in COVID-19 cases. According to a report in The Wall Street Journal, they have yet to materialize.
Reported infections actually declined after Gov. Greg Abbott lifted the mask mandate, but they have leveled off recently. When Abbott lifted the statewide mask mandate, he also allowed businesses to operate at full capacity, with no limits, starting March 10.
The Journal's analysis shows there were about 4,900 confirmed cases on the day Abbott issued the order. The latest numbers show a seven-day average of around 3,400 cases.
Pfizer vaccine being tested on babies and kids
The coronavirus vaccines are being opened up to an ever-wider population, but they will go to people who are no younger than 18 until researchers gather more data. That process has now begun.
Pfizer reports that it has begun testing the vaccine it developed in partnership with BioNTech on children from six months old to 11 years old. Based on the results of the clinical trials, the vaccine could soon be administered to children.
The company said researchers will evaluate the safety and effectiveness of the selected dose levels in the next phase of the trial, with participants being randomly selected to receive the vaccine or a placebo.
Rutgers to require vaccinations for on-campus students
Most businesses are still grappling with the question of whether to require employees to be vaccinated against COVID-19, but Rutgers University has already made that decision as far as its students and staff are concerned.
University officials have announced that they will require all students attending classes on campus in the fall to prove that they have been vaccinated.
"In support of Rutgers' commitment to health and safety for all members of its community, the University will be updating its Immunization Requirements for Students to include the COVID-19 vaccine," the university wrote in a letter to students and parents. "This health policy update means that, with limited exceptions, all students planning to attend in the Fall 2021 semester must be fully vaccinated. In parallel, we continue to strongly urge all Rutgers faculty and staff to get immunized against COVID-19 at the earliest opportunity."
Small business still getting strong consumer support
Small businesses have been devastated by the pandemic over the last 12 months, but it could have been worse. A new survey from Next Insurance shows that 87 percent of consumers say they have consciously tried to patronize small businesses to keep them afloat.
But it hasn't always been successful. The survey also showed that 85 percent report at least one small business near them has closed due to the pandemic. Consumers were most likely to say that a local restaurant they liked had gone out of business. 
The most common reason consumers gave for supporting local businesses was to help their neighbors and keep the local economy strong.
Around the nation
Florida: Gov. Ron DeSantis has announced a major expansion of the vaccination eligibility pool that will allow state residents who are at least 40 years old to get inoculated starting Monday. On April 5, anyone 18 or older will be eligible for the shots.

Texas: Gov. Greg Abbott's recent relaxation of virus mitigation rules, including a statewide mask mandate, created a political firestorm. The Texas Tribune reports that it has also cost the state a decline in convention business, with some hotels reporting significant cancellations.

Iowa: Hospitalizations are defying a national trend, rising throughout the state this week. The state health department reports that 207 people are currently hospitalized with the virus, compared to 190 reported hospitalizations on Wednesday.