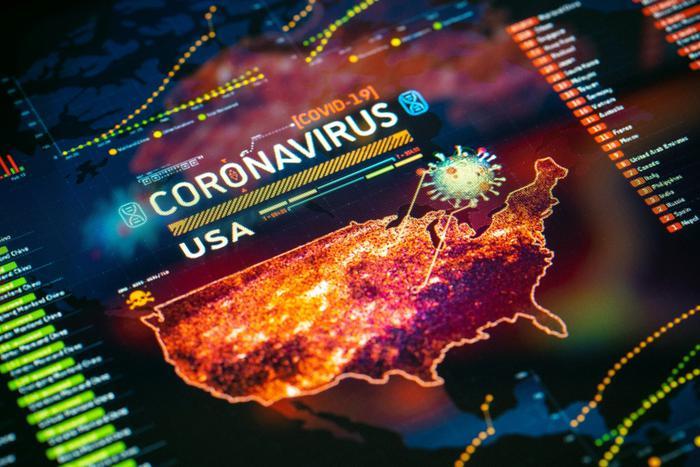 Coronavirus (COVID-19) tally as compiled by Johns Hopkins University. (Previous numbers in parentheses.)
Total U.S. confirmed cases: 3,592,316 (3,499,771)
Total U.S. deaths: 138,543 (137,420)
Total global cases: 13,859,486 (13,589,273)
Total global deaths: 591,157 (584,990)
Another day, another record
In the U.S., the coronavirus (COVID-19) shows no sign of slowing down. On Thursday, the nation logged 77,200 new cases, eclipsing the old record set July 10 by 10,000, according to the Johns Hopkins COVID-19 Tracking Project. 
New cases appear to be rising in nearly every state, including those that have taken strong mitigation measures to keep the virus in check. But three states -- California, Texas, and Florida -- reported half the nation's new cases.
More troubling, hospitalizations are also on the rise. Since the beginning, a fairly stable percentage of coronavirus cases have required hospital care.
18 states may be in danger of closing down again
A group called The Center for Public Integrity has released what it says is an unpublished document prepared for the White House coronavirus task force, placing 18 states in "the red zone" when it comes to the spread of the virus.
The document recommends that those 18 states consider rolling back their reopening process to stem the surge in new cases. Dr. Ashish Jha, director of the Harvard Global Health Institute, said he thought the information and recommendations were mostly good.
"The fact that it's not public makes no sense to me," Jha told the non-profit journalistic entity. "Why are we hiding this information from the American people? This should be published and updated every day."
"Wearing a mask will help the economy"
Another high-profile business executive is making a strong case for Americans to wear masks in public, arguing that it will help the economy recover faster. Blackrock CEO Larry Fink, appearing on CNBC, said it's critical that the economy is not shut down again and that having everyone mask up offers the best chance to avoid that.
"We are witnessing many, many states reopening, but reopening without wearing masks," Fink said. "We need a world of compassion and that compassion is meaning wearing a mask." 
Fink echoed the comments from Salesforce CEO Marc Benioff, who earlier in the week advised the public to wear masks. He said if everyone did so, the virus could be neutralized in three weeks.
Lyft adds partitions for some drivers
Lyft said it will provide plexiglass partitions to its most active drivers in an effort to protect them from the coronavirus. The partitions will be installed in cars later this summer.
In a blog post, the company said it has already established stringent guidelines, based on advice from the Centers for Disease Control and Prevention (CDC), to promote the health and safety of everyone involved in ride-sharing.
"Building off this, today we're beginning to roll out vehicle partitions to drivers over the course of the coming months," the company said. "The CDC recommends using vehicles with partitions to help maintain distance between drivers and riders, when available."
Mask advice
The American Lung Association, along with several medical groups, is weighing in on the use of masks with some "dos and don'ts." Clearing up a common misconception, the association says wearing a mask protects others, not the person wearing it. It also advises consumers against purchasing N95 masks.
"The general public should not be using N95 masks so as not to deplete this resource for frontline workers," the groups said in a statement. "The public should also avoid use of N95 masks with outlet valves or marked KN as they may not be fully protective."
The statement also says people with normal lungs and even many individuals with underlying chronic lung disease should be able to wear a non-N95 facial covering without affecting their oxygen or carbon dioxide levels.
Around the nation
Nevada: The state's health department reports that at least 123 visitors to Nevada -- mostly to the state's casinos -- have tested positive for the coronavirus, either after they arrived or shortly after returning home. Nevada saw a rise in cases shortly after the casinos reopened on June 4.

Texas: Coronavirus cases are surging in Texas, but Gov. Greg Abbott has ruled out a second economic shutdown. Abbott walked back a previous statement that said if cases didn't get under control the next step would be a lockdown.

West Virginia: A Charleston Church, which had been holding in-person services for weeks, is resuming its online worship services after 24 members of the congregation tested positive. "We don't want to discourage people from going to church but COVID-19 is still out there, said  Dr. Sherri Young, executive director of the Kanawha-Charleston Health Department.