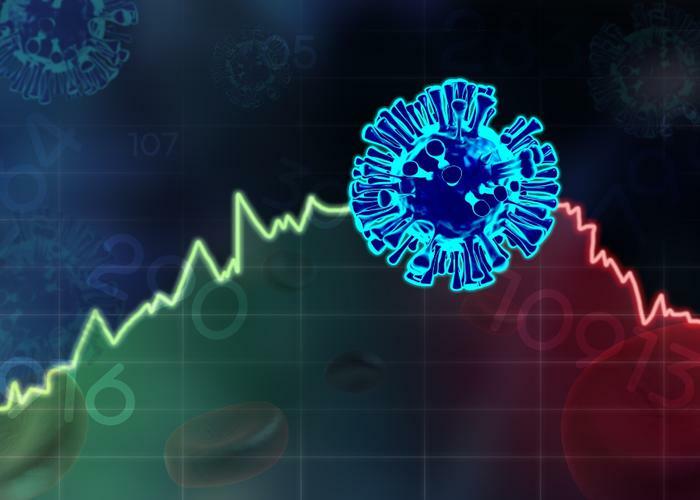 Coronavirus‌ ‌(COVID-19)‌ ‌tally‌ ‌as‌ ‌‌compiled‌‌ ‌by‌ ‌Johns‌ ‌Hopkins‌ ‌University.‌ ‌(Previous‌ ‌numbers‌ ‌in‌ ‌parentheses.)‌ 
Total‌ ‌U.S.‌ ‌confirmed‌ ‌cases:‌ 33,921,025 (33,895,607)‌
Total‌ ‌U.S.‌ ‌deaths:‌ 607,863 (607,523)
Total‌ ‌global‌ ‌cases:‌ 188,015,773 (187,512,171)
Total‌ ‌global‌ ‌deaths:‌ 4,052,630 (4,043,963)‌
U.S. sees a surge in new cases
Life has seemed almost normal in recent weeks, at least for Americans who are fully vaccinated. But for those who have chosen not to get a vaccine, the threat is still very real. In the last week, U.S. cases of the coronavirus have surged.
The seven-day average of newly confirmed cases has climbed to about 23,300 a day, almost double the average from a week ago. Health officials attribute the sudden rise to the Delta variant spreading among people who are not vaccinated.
"Hospitalizations, ICU admissions, and deaths all lag behind new cases, so we expect those to continue to get worse, substantially worse over the next two to three weeks," said Dr. Andrew T. Pavia, chief of pediatric infectious diseases at the University of Utah School of Medicine, on a call with other health professionals.
Cruise line sues Florida over vaccine passport ban
Norwegian Cruise Lines has filed a lawsuit against the state of Florida, seeking to overturn its law prohibiting businesses from requiring customers to show proof of vaccination against COVID-19. The company says requiring all persons aboard its ships to be vaccinated is necessary to prevent outbreaks of the virus.
"The State of Florida has indicated that it is otherwise preventing (Norwegian) from safely and soundly resuming passenger cruise operations from Miami, Florida, ... in the way that this cruise line has determined will be best for all concerned -- with the benefit of documentation confirming that all of its passengers and crew have been fully vaccinated against COVID-19," the suit said.
In a statement to the media, Florida Gov. Ron DeSantis' office called requiring proof of vaccination "discrimination." "Therefore, Norwegian faces a $5,000 fine from whom they demand a vaccination status," the statement said.
Study finds food insecurity increased during the pandemic
It's been well documented how the pandemic changed consumers' food-buying behavior. Online ordering and curbside pickup grew exponentially.
Researchers at the University of Connecticut have completed a study showing the pandemic's effects were not uniform. Food insecure consumers behaved differently in ways that increased their insecurity.
The study found that food-secure individuals tended to spend more per trip to stockpile food, reduce the potential for COVID-19 exposure, and prepare for food shortages. But food-insecure individuals could not prepare in the same way because they had much more constrained budgets and resources. Although food-insecure people made fewer grocery shopping trips due to concerns about contracting COVID-19, they did not increase spending per trip.
Around the nation