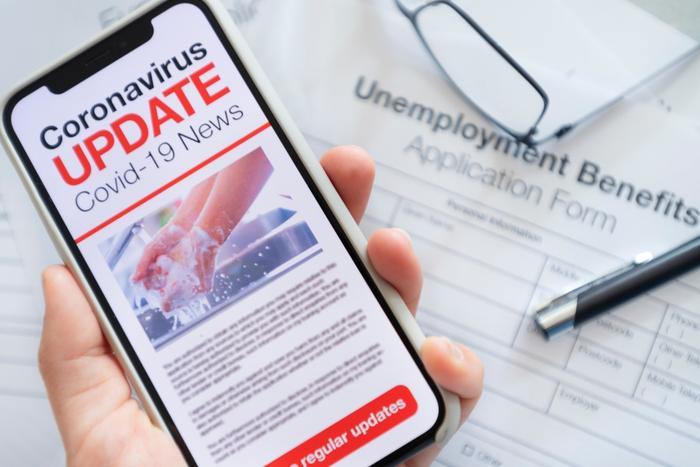 Coronavirus (COVID-19) tally as compiled by Johns Hopkins University. (Previous numbers in parentheses.)
Total U.S. confirmed cases: 1,856,118 (1,835,681)
Total U.S. deaths: 107,281 (106,312)
Total global cases: 6,551,290 (6,425,284)
Total global deaths: 386,795 (381,528)
New unemployment claims stubbornly high
Initial claims for unemployment benefits totaled 1.8 million last week. The report by the Labor Department shows the economy is continuing to shed jobs at a faster-than-expected rate, though the number is much lower than when the coronavirus (COVID-19) lockdown began in late March.
Continuing claims for benefits, a number that shows how many Americans remain unemployed, totaled 21.5 million for the week, rising 649,000 over the previous week. It, too, was worse than expected.
The insured unemployment rate, a ratio of those collecting benefits compared with the total labor force, rose 0.5 percentage points to 14.8 percent.
The Las Vegas Strip lights up again
Casinos in Las Vegas opened their doors again just after midnight, but gamblers were met with a number of new safety protocols as they returned. Dealers and other personnel wore masks, and hand sanitizer was as plentiful as cocktails.
Actually, it was hotel casinos in suburban Las Vegas that were the first to open at 12:01 a.m. They were followed later in the morning by a restart of the iconic Bellagio fountain and reopenings of several resorts on the Las Vegas Strip.
"We are excited to get our employees back to work and to welcome guests to the entertainment capital of the world,"  Derek Stevens, owner of two downtown Las Vegas casinos, told ABC News.
A slow return to the sky
In another sign that consumers are shedding concerns about air travel, American Airlines says it expects to operate about 55 percent of its flights next month. It's also resuming lounge service June 22 at 11 Admirals Club lounges in 10 key U.S. cities.
American expects the biggest increase in passenger traffic to come from its hubs, including Dallas Fort Worth International Airport (DFW) and Charlotte Douglas International Airport (CLT). Based on customer searches and bookings, it expects increased flights to Asheville, N.C., (AVL), Savannah, Ga., (SAV), and Charleston, S.C., (CHS) for business and leisure travelers.
"We're seeing a slow but steady rise in domestic demand. After a careful review of data, we've built a July schedule to match," said Vasu Raja, American's senior Vvce president of Network Strategy. "Our July schedule includes the smallest year-over-year capacity reduction since March. We'll continue to look for prudent opportunities to restore service so our customers can travel whenever and wherever they are ready.
Some health insurers are lowering premiums
Anthem is the latest major health benefits provider to announce a premium reduction. The company said it is returning $2.5 billion to its policyholders and health care providers with premium credits of up to 15 percent next month.
Other major providers have already instituted customer rebates, including UnitedHealth Group, which announced last month that it was cutting premiums by 20 percent in the month of June, citing fewer health care expenses. The company estimated that the move will put $1.5 billion back in customers' pockets.
Many Auto insurers also lowered premiums in April when stay-at-home orders drastically reduced traffic on highways and led to fewer accidents. Most major carriers, including Allstate and Geico, temporarily reduced policyholder premiums by up to 15 percent.
Planning that first post-virus vacation
Americans cooped up at home for the last three months may be longing to hit the road for a vacation this summer, but a survey from ValuePenguin suggests they won't head for some exotic playground.
Nearly half said the first trip they'll take when travel restrictions are lifted will be to visit family. Visiting friends came in second at 14 percent.
Florida, California, and New York will be the first states that respondents visit as travel restrictions are lifted. Other popular destinations include Texas and New Jersey.
Around the nation
New Jersey: Health officials have cleared restaurants to reopen with outdoor seating on June 15. The rules are similar for restaurants and bars in other states. Tables must be six feet from each other; establishments must  have a limit of eight customers to a table; and they must post signs that say patrons with a fever or symptoms of the coronavirus shouldn't enter.

Michigan: The Detroit Zoo will reopen June 8 for members only. Attendees must also make reservations and observe social distancing rules. The zoo will start accepting reservations on Friday.

Missouri: While first responders have rightly been a priority in getting protective gear, the state's "last responders" appear to be at the back of the line. Don Otto, with the Missouri Funeral Directors and Embalmers Association, tells Missourinet that protective gear purchased through vendors is long gone, and funeral homes are not part of the emergency supply chain.