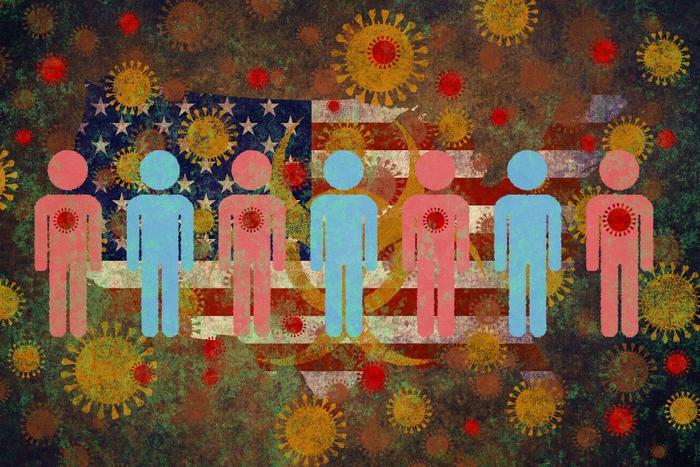 Coronavirus (COVID-19) tally as compiled by Johns Hopkins University. (Previous numbers in parentheses.)
Total U.S. confirmed cases: 22,864,103 (22,645,344)
Total U.S. deaths: 381,513 (377,616)
Total global cases: 91,838,572 (91,087,170)
Total global deaths: 1,968,343 (1,950,190)
Tuesday's death toll was the pandemic's highest
The U.S. suffered its worst day of the coronavirus (COVID-19) pandemic Tuesday, with 4,320 deaths attributed to the virus. The death toll has risen along with the surge in new cases.
The COVID-19 infection rate gained momentum last week, averaging 3,300 cases a day over the seven-day period. That's an increase of 217 percent from mid-November.
In another grim development, the number of people being treated in hospitals is straining capacity. Arizona had a record-high 5,082 people in the hospital on Tuesday, with nearly 1,200 COVID-19 patients in intensive care units (ICU).
Feds buy 1.25 million antibody doses
Regeneron has announced that the U.S. government has purchased an additional 1.25 million doses of its antibody drug to treat COVID-19 patients. 
The antibody cocktail is for use in non-hospitalized COVID-19 patients to meet the federal government's Operation Warp Speed goals. The government has said it will provide these doses at no cost to patients, though health care facilities may charge fees related to administration.
"COVID-19 continues to sicken hundreds of thousands of Americans every day and the people of Regeneron are committed to help," said Dr. Leonard S. Schleifer, Regeneron's CEO. "Tackling the COVID-19 pandemic will require a combination of public health measures, vaccines, and therapeutics. We are pleased to work with the U.S. government to supply our antibody cocktail as an important weapon in this fight."
Ohio researchers find two new strains of the virus
Ohio State University scientists say they have discovered a new variant of SARS-Cov-2, the virus that causes COVID-19. They say the new variant carries a mutation that's identical to the U.K. strain, but they say it probably stemmed from a virus strain that was already in the U.S.
The researchers also report that there has been an evolution of another U.S. strain that acquired three other gene mutations not previously seen together in SARS-CoV2.
"This new Columbus strain has the same genetic backbone as earlier cases we've studied, but these three mutations represent a significant evolution," said study leader Dr. Dan Jones, vice chair of the division of molecular pathology. "We know this shift didn't come from the U.K. or South African branches of the virus."
Disneyland now a vaccination venue
The Disneyland theme park is reopening its doors this week, but not to provide entertainment. Rather, it's becoming the latest mass vaccination venue. 
"Residents in my district have been highly impacted by COVID-19. These Super PODs are absolutely critical in stopping this deadly virus," said Orange County Supervisor Doug Chaffee.
Around the country, other large spaces, including closed department stores in shopping malls, are being repurposed as vaccination centers. In the Boston area, Gillette Stadium, home of the New England Patriots, is also opening its gates for people in search of a vaccination.
Dollar General will pay employees to get vaccinated
Retailer Dollar General said it will pay its frontline hourly employees to get the vaccination as soon as it is available. The company said it lacks onsite facilities to administer the vaccine to employees, so it will provide paid time off and transportation costs for them to travel to a vaccination center.
"We do not want our employees to have to choose between receiving a vaccine or coming to work, so we are working to remove barriers (e.g., travel time, mileage, child care needs, etc.) by providing frontline hourly team members with a one-time payment equivalent of four (4) hours of regular pay after receiving a completed COVID-19 vaccination and salaried team members with additional store labor hours to accommodate their time away from the store," the company said in a press release.
Dollar General said it is also working with its distribution and transportation teams to make similar accommodations for those employees.
Around the nation
Massachusetts: A COVID-19 data tracker has raised Massachusetts' outbreak level to the highest risk category. The state now has more than 90,000 active cases of COVID-19, a large increase that moved the state up to the "severe outbreak" category.

Missouri: The state has recorded 200 deaths in a single day for the fourth time during the pandemic. State health officials say all four of those 200-death days have occurred in the last 30 days.

Nevada: Gov. Steve Sisolak has announced that gaming floors, bars, and restaurants must adhere to a 25 percent occupancy limit for another 30 days due to coronavirus risk. State officials expressed concern that large New Year's Eve gatherings in Las Vegas would lead to a spike in new cases of the virus.