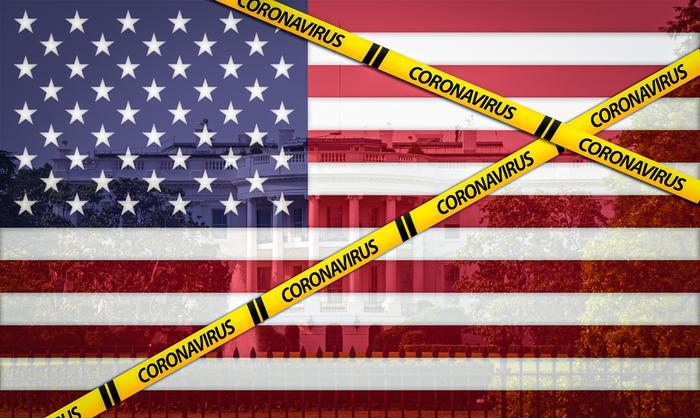 Coronavirus (COVID-19) tally as compiled by Johns Hopkins University. (Previous numbers in parentheses.)
Total U.S. confirmed cases: 7,423,328 (7,399,459)
Total U.S. deaths: 209,857 (209,610)
Total global cases: 35,252,679 (34,986,505)
Total global deaths: 1,038,307 (1,034,538)
President Trump's condition improves
Doctors treating President Trump for the coronavirus (COVID-19) say the chief executive has improved since being admitted to Walter Reed Army Medical Center on Friday. His treatment includes remdesivir, an antibody cocktail, and a steroid drug.
The president, meanwhile, is coming under fire for his visit to supporters Sunday, riding in the back of an SUV as it drove through the hospital grounds. Dr. James Phillips, an attending physician at Walter Reed and doctor of emergency medicine at George Washington University, took to Twitter, calling the ride "insanity."
"Every single person in the vehicle during that completely unnecessary presidential 'drive-by' just now has to be quarantined for 14 days," he wrote. "They might get sick. They may die. For political theater."
Businesses make new appeal for help
The House has approved a $2.2 trillion aid package to help businesses and consumers as signs indicate that more companies face the prospect of closing or cutting staff. The airline industry says it will have to furlough 30,000 workers without help from Washington.
Businesses and industries outside the U.S. may be in even worse shape. Bars in Paris have been ordered to close next week as cases spike across Europe in what doctors say is a second wave of the virus.
"The global economy is in its worst state in a century," Yousef Al-Benyan, chairman of the Business Twenty (B20), a group made up of high-level CEOs from around the world, told CNBC. "The challenging opportunity is to build back better, with real urgency required from policymakers and business leaders."
New York City plans to shut down nine ZIP codes
New York City Mayor Bill de Blasio says nine ZIP codes in Queens and Brooklyn will be ordered to shut down later this week if the state government gives the green light. Those areas have seen significant increases in cases of the virus in recent days.
The shutdown would represent a rewind to April, when non-essential businesses were ordered to close their doors. It would also close public and private schools.
"I'm very aware of challenges it will cause," de Blasio said Sunday. "I'm very aware for the people in the nine ZIP codes, there's a tough period ahead, but I know we will overcome."
Regal closing U.S. theaters
Cineworld, parent company of Regal, said it is temporarily closing its 536 theaters in the U.S. beginning Thursday to wait out the coronavirus. 
"This is not a decision we made lightly, and we did everything in our power to support a safe and sustainable reopening in the U.S.– from putting in place robust health and safety measures at our theatres to joining our industry in making a collective commitment to the CinemaSafe protocols to reaching out to state and local officials to educate them on these initiatives," said Mooky Greidinger, CEO of Cineworld.
The theater chain has faced twin headwinds. Its theaters have not been allowed to open in some large markets, and it's facing a shortage of new movies because studios are putting off the release of major films. 
United resuming flights to China
For the first time in eight months, when the coronavirus pandemic was mostly confined to China, United Airlinesplans to offer flights to that country again. The airline said United's service between San Francisco and Shanghai will resume Oct. 21.
"United continues playing a critical role in keeping people and global supply chains connected to Shanghai and to cities around the world," said Patrick Quayle, United's vice president of International Network and Alliances. "We look forward to resuming nonstop service and offering our customers greater convenience and shorter flight times between San Francisco and Shanghai."
United will operate four flights a week between the U.S. and China and will no longer be required to stop in Seoul, South Korea.
Around the nation
Michigan: The state Supreme Court has ruled that Gov. Gretchen Whitmer lacks legal authority to continue Michigan's coronavirus emergency orders. The court ruled that Whitmer overstepped the law when she extended the emergency order that expired at the end of April.

Missouri: Gov. Mike Parson has returned to his office after being treated for COVID-19. Parson, a firm opponent of mandatory mask rules, said on Facebook that both he and his wife -- who also tested policy -- have been cleared to work from home while they recover from the virus.

Florida: A family court judge has denied a mother visitation rights with her son for one reason -- she refuses to wear a mask. Broward Circuit Judge Dale Cohen called the mother an "anti-mask person" who had bragged about it on Facebook. Her 14-year-old son has asthma.