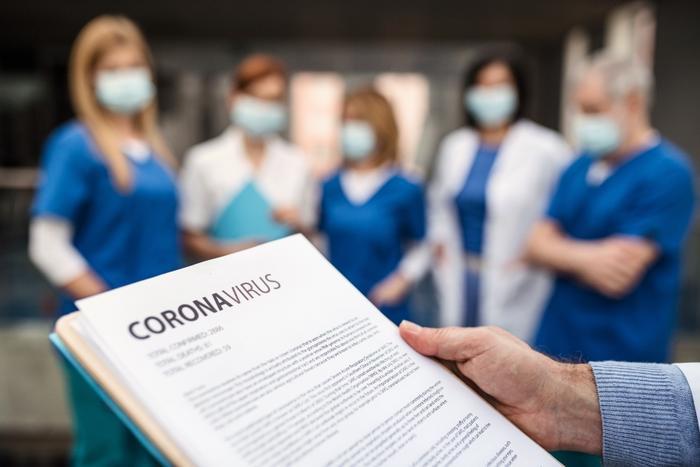 Coronavirus (COVID-19) tally as compiled by Johns Hopkins University. (Friday's numbers in parentheses.)
Total U.S. confirmed cases: 347,003 (257,773)
Total U.S. deaths: 9,683 (6,586)
Total global cases: 1,292,565  (1,056,777)
Total global deaths: 70,798 (55,781)
This is war
The doctors and nurses on the front lines of treating the coronavirus (COVID-19), as well as the first responders getting sick people to the hospital, are comparing their fight to a war -- a war against an unrelenting disease.
Dr. Craig Smith, chief surgeon at New York's Presbyterian Hospital, put the comparison eloquently in a memo to his staff. This is "our Gettysburg, our Somme, our Iwo Jima, our Khe Sanh, our Fallujah," he wrote, calling to mind some of America's most desperate military battles.
"We yearn to find our invincible spring, but we are hurtling into weeks predicted to be our worst,"  he told his staff at the start of the week. "The steadily positive slope we've watched for a month is grinding and relentless."
That said, New York Gov. Andrew Cuomo sounded a more hopeful note, saying the death toll in the state -- the highest in the nations -- saw a one-day drop. Cuomo said there are so few non-coronavirus hospitalizations in New York that he's asking the White House to convert the Navy hospital ship in New York Harbor to a facility to treat the coronavirus.
Louisiana braces for the worst
The situation could get worse in Louisiana this week as coronavirus cases threaten to overwhelm hospitals in the state. Louisiana Gov. John Bell Edwards told CNN that hospitals are in danger of running out of ventilators this week.
"We now think it's probably around the 9th of April before we exceed our ventilator capacity based on the current number on hand and that we're a couple of days behind that on ICU bed capacity being exceeded," Edwards told the network.
New Orleans has emerged as a new U.S. epicenter of the pandemic. Health officials believe the virus was spread widely during Mardi Gras celebrations that drew huge crowds in late February.
CVS deploys drive-up testing in Georgia and Rhode Island
CVS Health has announced that it will provide drive-up coronavirus testing locations at its stores in Georgia and Rhode Island. The company said it will utilize licensed health care providers from MinuteClinic, CVS' retail medical clinic, to oversee the testing, which is currently available at no cost to patients. 
Unlike the first tests, which often took more than a week to see the results, CVS said its drive-up locations will use the new rapid-results tests. 
"Thanks to our partnerships with state officials and the utilization of advanced technology, our providers will be able to test large numbers of people in these states and make real-time decisions about treatment and appropriate next steps," said Dr. Troyen Brennan, CVS Health's chief medical officer. 
Other brands step up
From the start of the coronavirus crisis, major brands have stepped up to help out, often without being asked. From major lenders like Bank of America announcing a moratorium on home foreclosures to Appledonating 20 million masks, companies large and small have stepped in to help.
This week, Dominosannounced that it would begin working with its franchised and company-owned stores to donate 10 million slices of pizza to local communities. The free pizzas will go to people and organizations that are meaningful to their communities, and all 6,126 Dominoes stores are expected to take part.
"We have a long history of feeding people during times of crisis and uncertainty," said Russell Weiner, Domino's chief operating officer. "When we were looking at how we could help, we knew we could use the reach of our national brand to make a difference in thousands of local neighborhoods."
Weiner said individual Dominos stores have already been sending out free pizzas to first responders and health care workers. He said this company-wide project marks a major expansion of those local efforts.
Around the nation
Alabama: Rural Lee County has 105 illnesses and three deaths linked to the coronavirus, and officials at the East Alabama Medical Center say the unusually-high number is due to church gatherings. In that part of the state, many churches have resisted stay-at-home orders.

Maine: Working from home is causing infrastructure problems for the state's internet providers. Officials at the University of Maine say the extra strain on systems has caused slowdowns and, in a few cases, brief outages.

Colorado: National health officials have identified Colorado, along with Pennsylvania and Washington, DC, as the next potential coronavirus hotspots. The state has 4,174 cases and 105 deaths.