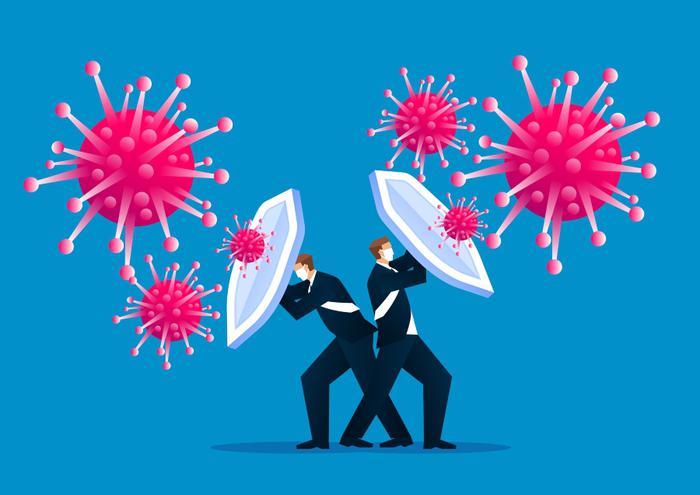 Coronavirus (COVID-19) tally as compiled by Johns Hopkins University. (Previous numbers in parentheses.)
Total U.S. confirmed cases: 8,277,961 (8,224,396)
Total U.S. deaths: 221,150 (220,338 )
Total global cases: 40,914,651 (40,514,091)
Total global deaths: 1,126,562 (1,120,003)
Survey suggests less-crowded stores on Black Friday
Retailers have adapted to the coronavirus (COVID-19) when it comes to holiday shopping, planning more sales events before Black Friday and conducting them online. That might be a good thing since a new survey from KPMG suggests stores likely won't be that crowded on the day after Thanksgiving.
The survey found that 41 percent of consumers plan to stay home on Black Friday and do their shopping online -- and when they do spend, they're likely to spend less.
"Faced with considerable uncertainty and reduced household income, consumers are spending less this holiday season, focusing on essential purchases for the home and gifts for close family members," said Scott Rankin, national advisory leader, Consumer & Retail, KPMG. "Retail customers are forming new shopping habits, which are expected to continue into 2021 and beyond."
Tool predicts who is most at risk from COVID-19
Researchers in the UK have developed a tool that can predict who is at the highest risk of getting the worst symptoms of the coronavirus. Writing in BMJ, a British medical journal, the scientists from King's College said they found the people identified as most at-risk accounted for 75 percent of the deaths in the test group.
"The tool provides nuanced information on people's risk of serious illness due to Covid-19 and is designed for use by clinicians with patients to reach a shared understanding of risk," the authors wrote.
The researchers said the tool could prove valuable as Europe and the U.S. contend with the second wave of the virus. The tool could help show which part of the population needs to take extra precautions to avoid infection, as well as identify those most likely to need hospitalization once they become infected. 
McConnell casts doubt on new round of stimulus
The assumption all along has been that a new COVID-19 relief bill will be up to House Speaker Nancy Pelosi (D-Calif.) and the Trump administration. Pelosi has held hours of negotiations with Treasury Secretary Steven Mnuchin in an effort to reach a compromise bill that can pass before the Nov. 3 election.
But Senate Majority Leader Mitch McConnell (R-Ky.) has reportedly warned the White House not to send a bill to the Senate, saying many Republicans would probably vote against it. 
NBC News reports McConnell told his fellow GOP lawmakers in a closed-door session that the package is too large and complex to digest for a vote before lawmakers return home to campaign. He reportedly said any aid bill should wait until after the election.
New York transit workers hard hit by the virus
In the second wave of the coronavirus, people who can't work from home and who deliver essential services have been more likely to get infected. A survey of New York City's transit workers found that 24 percent reported having contracted COVID-19 and 90 percent fear getting sick at work. 
The study shows the risk was present right from the start. In the early days of the pandemic, the Metropolitan Transportation Authority (MTA) continued service to ensure that health care workers, grocery and delivery workers, and other essential employees could continue to get to work.
"Through gaining a deeper understanding of how COVID-19 has impacted transit workers' health and quality of life, we can determine how to best support them and protect them moving forward," said Robyn Gershon, clinical professor of epidemiology at NYU School of Global Public Health, who led the research project.
Population density determined how people responded to COVID-19
In March and April, people responded to quarantines and shutdown orders in different ways. A new study from Johns Hopkins University shows people in high population density areas responded differently than people in less densely populated areas.
In areas of dense population, the researchers found that people cut out visits to grocery stores, pharmacies, and transit stations. However, they did not reduce their visits to parks and beaches.
In part, they say that could be because urban dwellers had better access to home delivery services. They also suggest that park and beach visits may not have declined because they were allowable under many stay-at-home mandates, may have been important in reducing stress amid the pandemic, and may also have been widely perceived as low risk.
Around the nation
Minnesota: State health officials report 1,129 new cases of COVID-19 and seven deaths from the disease. But more concerning is the steady rise in hospitalizations. There were 126 hospital admissions Tuesday, a new single-day high. 

North Carolina: Democratic vice presidential nominee Kamala Harris has rescheduled her campaign stops which were canceled last week after a staffer tested positive for the virus. The California senator will make stops in Asheville and Charlotte.

Iowa: Iowa's surge in coronavirus cases has been fueled primarily by infections in three counties, according to the White House Coronavirus Taskforce. The report shows that Polk County, Woodbury County, and Dubuque County had the highest rates for new cases during their reporting period, representing a total of 22.6 percent of the state's overall 7,512 new cases.