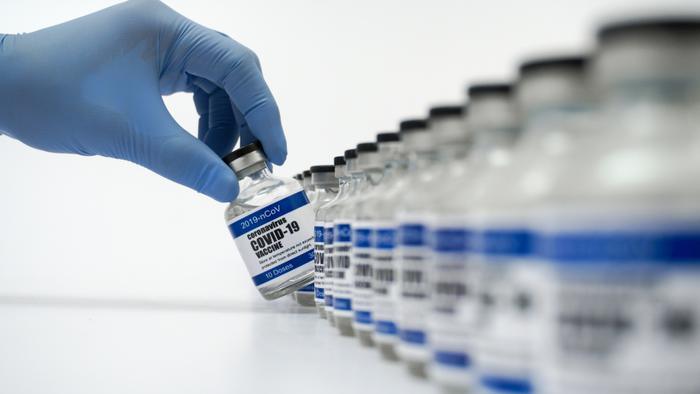 Coronavirus (COVID-19) tally as compiled by Johns Hopkins University. (Previous numbers in parentheses.)
Total U.S. confirmed cases: 22,429,685 (22,227,722)
Total U.S. deaths: 374,442 (373,331)
Total global cases: 90,435,754 (89,960,893)
Total global deaths: 1,938,004 (1,931,083)
Vaccine producer promises more doses
BioNTech, the pharmaceutical company that partnered with Pfizer to produce a successful coronavirus vaccine, says it plans to ramp up production to help alleviate shortfalls in some areas.
Citing presentation slides that the company produced for a financial analysts' conference, CNBC reports that BioNTech has set a goal of producing 2 billion doses in 2021. That's an increase from the previous goal of 1.3 billion doses.
"This is based on continuous process improvements and expansion at our current facilities, and contingent upon adding more suppliers as well as contract manufacturers," BioNTech wrote as part of its presentation.
More evidence of COVID-19's drag on hiring
On the heels of the December employment report showing a loss of jobs in the economy, there's more evidence that the pandemic is taking an increasing toll on hiring. The latest Paychex IHS Markit Small Business Employment Watch shows a slowing of 0.24 percent in December's Jobs Index.
"The winter season brought a surge in COVID-19 cases and with it a retreat in jobs growth," said James Diffley, chief regional economist at IHS Markit.
He says Congress' new pandemic stimulus package has come at the right time for business owners. Specifically, he points to the second round of Paycheck Protection Program (PPP) loans, simplified forgiveness for new and existing PPP loans, and an extension and expansion of the Employee Retention Tax Credit.
PPP 2.0
Speaking of the PPP, the second round of that small business support program got underway today, with another $280 billion available for struggling businesses. This time, the program administrators say efforts will be increased to make sure it's fair, with the money going to companies that most need it. 
The updated initiative comes in the form of forgivable loans for small businesses. However, there are some key eligibility differences. When applying for a PPP loan, businesses will also find a new streamlined forgiveness application. 
Another addendum under the new version of the program states that any loan under $150,000 and coming from the Small Business Administration (SBA) will not require documentation.
Dodger Stadium to become mass vaccination site
The City of Los Angeles has announced that Dodger Stadium is being repurposed into a mass inoculation site as early as this week. The move is designed to break the logjam that has slowed the rollout of the coronavirus vaccines.
The stadium has already played a role in trying to contain the virus by becoming a testing venue. Officials say the tests will be replaced by actual administration of the vaccine.
"Vaccines are the surest route to defeating this virus and charting a course to recovery, so the City, County, and our entire team are putting our best resources on the field to get Angelenos vaccinated as quickly, safely, and efficiently as possible," said Los Angeles Mayor Eric Garcetti.
Beating the lockdown blues
Now that the pandemic has dragged into another year, people are no doubt suffering from lockdown fever and are eager to get outdoors. Scientists say that may be a very good idea and could go a long way toward alleviating anxiety.
Researchers taking part in an international study examined how levels of happiness during a national lockdown were affected by being outdoors, the amount of daily screen time -- use of TV, computer and smartphone -- and feelings of loneliness. The study findings showed that levels of happiness were higher when participants were outdoors rather than indoors. The researchers also found that more daily screen time and higher levels of loneliness were both associated with lower levels of happiness. 
"Our results are important in this context because they show that being able to spend time outdoors under conditions of lockdown has a beneficial impact on psychological well-being," the author wrote.
Around the nation
Tennessee: As the state has opened vaccinations to all people age 75 and older, lines have gotten longer. State health officials have now instituted an online appointment system that they say should make the process go more smoothly.

Arizona: A Tuscon physician is telling state residents who have already had the coronavirus that they should still take precautions. However, she says there is a low risk of getting it again. "Currently, only a small number of cases have been shown convincingly to be reinfection," said Dr. Elizabeth Connick, an infectious disease specialist with Banner University Medical Center.

Maine: The pandemic may have slowed things down a bit, but the state's new marijuana dispensaries are still reporting a brisk business. Stores have reported more than $4 million in sales since retail outlets were legalized in October.