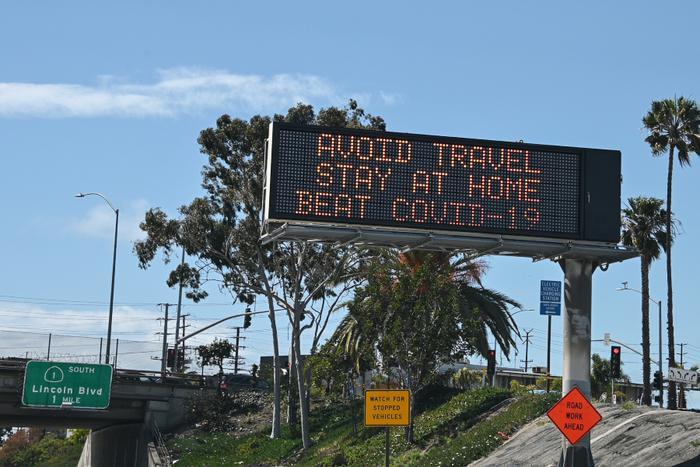 Coronavirus (COVID-19) tally as compiled by Johns Hopkins University. (Previous numbers in parentheses.)
Total U.S. confirmed cases: 11,743,780 (11,558,241)
Total U.S. deaths: 252,861 (250,898)
Total global cases: 57,164,742 (56,435,244)
Total global deaths: 1,364,959 (1,354,205)
Cities and states clamp down amid record cases
New cases of the coronavirus (COVID-19) set another single-day record on Thursday as Johns Hopkins University reported 187,833 cases of the virus. As cases mount, the nation's most populous states are imposing new restrictions.
California has beefed up its stay-at-home mandate as cases in Los Angeles County reached the highest number since July. "At this point, no one should still be questioning this virus, nor should they be questioning the actions that need to be taken," said Los Angeles County Health Officer Dr. Muntu Davis.
In New York City, many parents are expressing frustration with Mayor Bill de Blasio, noting that the city's bars and restaurants are still open amid surging cases despite the mayor suddenly closing the city's schools. 
"This is a tough day. It was a tough decision yesterday. It's not something anyone can possibly be happy about. I understand the frustration of parents," de Blasio said Thursday.
Pfizer ready to deploy its vaccine
Pfizer said today that it is seeking emergency use authorization (EUA) from the U.S. Food and Drug Administration (FDA) to begin inoculating Americans with its COVID-19 vaccine, days after it concluded Phase 3 clinical trials.
Pending government approval, the company said it could begin administering shots within the next couple of weeks. "Our work to deliver a safe and effective vaccine has never been more urgent," Pfizer CEO Albert Bourla said in a statement.
Meanwhile, researchers from Oxford University published findings of a study that suggested people who have recovered from the virus don't need to be in a hurry to get a vaccine. It showed people who have had the virus have enough antibody protection that they are unlikely to get the virus again for at least six months.
WHO recommends against using remdesivir
We haven't heard much lately about Gilead Sciences' antiviral drug remdesivir, which has been used as a treatment for the coronavirus since April. The World Health Organization (WHO) now says the drug should not be used to treat hospitalized COVID-19 patients.
The agency based its recommendation on the results of a large study of patients who had received the drug. The study concluded the drug has little effect on patients' recovery.
"Remdesivir has no meaningful effect on mortality or on other important outcomes for patients, such as the need for mechanical ventilation or time to clinical improvement," WHO officials said.
Mnuchin holds out hope for 'limited' stimulus
If Congress and the Trump administration couldn't agree on a stimulus package to help Americans economically impacted by the pandemic before, what hope is there now that President Trump is refusing to concede or cooperate with a transition to the Biden administration?
Treasury Secretary Steven Mnuchin thinks there is a chance, and he is huddling with Republican congressional leaders to craft a package to offer congressional Democrats.
Congress passed the $2 trillion Cares Act in the early days of the pandemic but has been unable to come to terms on a second phase of aid, which economists say is badly needed by consumers and businesses.
British study finds supermarkets are major transmission points
If you want to improve your chances of avoiding COVID-19, it may be wise to avoid bars and restaurants. But a new British study says supermarkets are a more likely place to get infected.
Data collated by Public Health England (PHE) from Britain's National Health Service (NHS) Test and Trace app has revealed that grocery stores are the most frequent coronavirus exposure setting. Supermarkets were the most frequently visited place among people who reported testing positive for the virus.
Even during economic shutdowns early in the pandemic, supermarkets remained open since they are considered essential businesses. Most have stepped up delivery and curbside pickup offerings to reduce the number of people in stores.
Around the nation
New Jersey: The state is considering new coronavirus restrictions after reporting 4,500 new cases of the virus on Thursday. "Next week, we'll continue to take steps. If we see transmission, we will get at it," said Gov. Phil Murphy.

Minnesota: Gov. Tim Walz made a televised address to residents of his state this week, imploring them to strictly observe virus mitigation protocols. He imposed new restrictions on businesses and social gatherings, including a ban on wedding receptions.

Utah: Gov. Gary Herbert is bucking the trend of public officials urging citizens to avoid gathering for Thanksgiving next week. While urging caution, he said, "what you do in the confines of your own home is up to you." The CDC said on Thursday that people should not travel to see friends and relatives over the holiday.