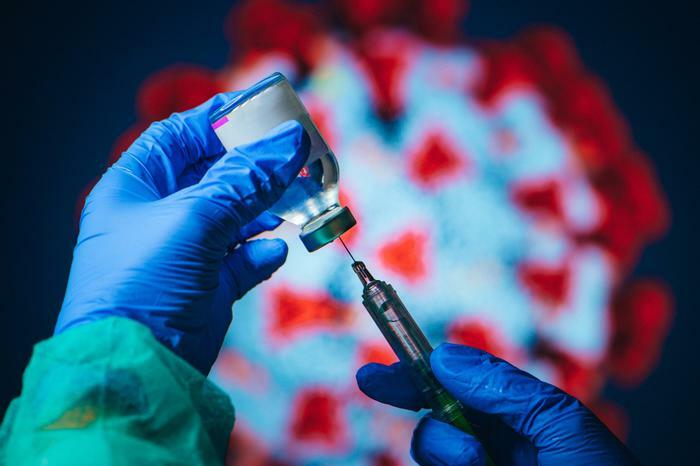 Coronavirus (COVID-19) tally as compiled by Johns Hopkins University. (Previous numbers in parentheses.)
Total U.S. confirmed cases: 33,290,961 (33,266,191)
Total U.S. deaths: 595,422 (594,603)
Total global cases: 171,323,440 (170,800,205) 
Total global deaths: 3,683,015 (3,551,771)
Vaccines are great but scientists want a cure
Vaccines have proven very effective against the coronavirus, but not everyone is choosing to be vaccinated. Scientists say they are searching for a cure to prevent the virus from becoming a public health threat in the future.
"Vaccine manufacturers are making next-generation vaccines to try and stay one step ahead, but it is unpredictable. So you need other interventions to address the potential evolution of the virus," Daria Hazuda, vice president of infectious disease and vaccine discovery research at Merck, told the PBS NewsHour.
Several drugs are in development. Merck scientists have produced a drug called molnupiravir as a possible treatment. The company says it is nearing the end of clinical testing.
FDA: Stop using these two tests
The U.S. Food and Drug Administration (FDA) has issued a safety communication to warn the public to stop using the Lepu Medical Technology SARS-CoV-2 Antigen Rapid Test Kit and the Leccurate SARS-CoV-2 Antibody Rapid Test Kit.
The agency said it has "serious concerns" about the performance of the tests and believes there is a high risk of false results. It said neither test has been authorized, cleared, or approved by the FDA. 
The FDA took a further step by identifying both products in a class I recall, which is the most serious type of recall. The FDA said it is aware that these unauthorized tests were distributed to pharmacies to be sold for at-home testing by consumers, as well as offered for sale directly to consumers.
Krispy Kreme has given away over a million free doughnuts
Krispy Kreme reports that vaccinated Americans have been lining up for weeks to get a free glazed doughnut. The company says its incentive program to encourage COVID-19 vaccinations has worked because it's given away more than 1.5 million doughnuts.
The company is increasing the incentive on Friday, June 4. Americans who show proof of vaccination can get two free doughnuts at participating stores.
"On National Doughnut Day, stop by and enjoy any doughnut you want on us," said Dave Skena, chief marketing officer for Krispy Kreme. "And if you're helping us get past this pandemic by getting your COVID-19 vaccine, then thank you and have a second doughnut on us." 
West Virginia steps up the incentives
States are increasingly searching for incentives to encourage residents to get vaccinated. West Virginia is the latest to up the ante by adopting a lottery idea that was used in neighboring Ohio.
Gov. Jim Justice announced this week that the state will run a vaccination incentive lottery throughout the summer. The lottery will include a $1.588 million grand prize, a $588,000 second prize, and full scholarships to any higher education institution in West Virginia.
To sweeten the deal further, West Virginia will also give away custom-outfitted trucks, lifetime hunting and fishing licenses, custom hunting rifles, and custom hunting shotguns.
Costco to bring back sample stations
In another sign that things are beginning to return to normal, shoppers at Costco will soon be able to nibble on food samples again. The warehouse retailer has announced that it will reopen food sample stations, closed at the start of the pandemic, at 170 of its stores.
The company also said it will reopen food courts at all of its stores starting next week, but at 50% capacity and with social distancing. Sam's Club has also announced that it is bringing back food samples at all of its locations in the U.S.
Around the nation
Kentucky: Gov. Andy Beshear says the state will roll out an incentive program to encourage people to get vaccinated. State health officials say there are currently about 2 million Kentuckians who are at least partially vaccinated. That represents approximately 46% of the state's population.

New York: New York City bars and restaurants are open again at full capacity with most virus restrictions now lifted. However, patrons are encountering higher prices on the menu. Business owners say the cost of food, supplies, and labor have all gone up in the wake of the pandemic.

Ohio: Most of the state's COVID-19 vaccination rules expired today. Ohioans are no longer required to wear masks or follow social distancing guidelines. It also puts an end to capacity restrictions at indoor and outdoor events.