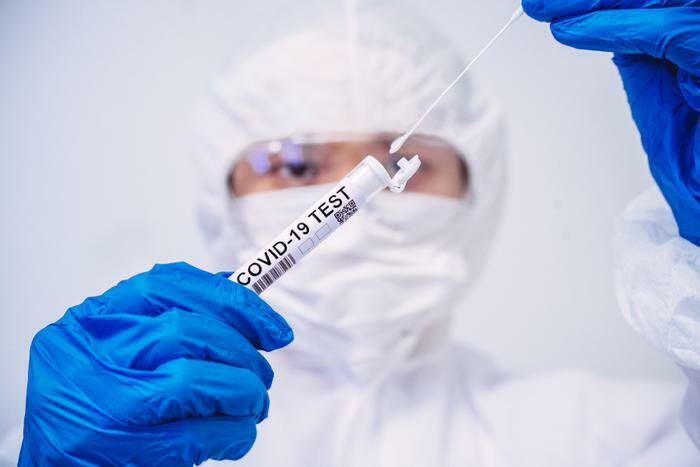 Coronavirus‌ ‌(COVID-19)‌ ‌tally‌ ‌as‌ ‌‌compiled‌‌ ‌by‌ ‌Johns‌ ‌Hopkins‌ ‌University.‌ ‌(Previous‌ ‌numbers‌ ‌in‌ ‌parentheses.)‌ 
Total‌ ‌U.S.‌ ‌confirmed‌ ‌cases:‌ 33,654,602 (33,642,146)‌
Total‌ ‌U.S.‌ ‌deaths:‌ 604,510 (604,179)
Total‌ ‌global‌ ‌cases:‌ 181,926,290 (181,‌533,728)
Total‌ ‌global‌ ‌deaths:‌ 3,940,211 (3,932,077)‌
NIH study makes a case for frequent antigen testing
Researchers affiliated with the National Institutes of Health's (NIH) Rapid Acceleration of Diagnostics (RADx) initiative have concluded a study that found regular coronavirus testing using the rapid antigen tests is the most effective way to screen for the virus.
While the PCR molecular test is the gold standard for accuracy, it costs more and takes longer to get results. The study found that frequent testing using the cheaper, faster antigen test was just as accurate.
"Rapid antigen testing at home, two to three times per week, is a powerful and convenient way for individuals to screen for COVID-19 infection," said Bruce Tromberg, Ph.D., director of the National Institute of Biomedical Imaging and Bioengineering (NIBIB), part of NIH. "With schools and businesses reopening, an individual's risk of infection can change from day to day. Serial antigen testing can help people manage this risk and quickly take action to prevent spread of the virus."
Supreme Court leaves eviction moratorium in place
The U.S. Supreme Court has rejected an appeal by property groups to lift the moratorium placed on evictions early in the pandemic for non-payment. The Centers for Disease Control and Prevention (CDC) recently extended the moratorium through the end of July. Originally, it would have expired today.
Chief Justice John Roberts and Justice Bret Kavanaugh sided with the court's three liberal justices in refusing to lift the moratorium. In a brief concurrence, Kavanaugh expressed doubts about the legality of extending the moratorium but concluded that the extension would allow for a more orderly distribution of rental assistance.
Before extending the moratorium, The CDC expressed concerns that evicting people from their homes could contribute to a public health hazard if the former renters became homeless.
Study finds some COVID-19 symptoms linger
Most people who have gotten COVID-19 have recovered, but some patients who had even mild symptoms reported that they hung around after recovery. Most notably, they experienced a continued loss of or reduced sense of smell and taste, along with shortness of breath.
Research findings from Aarhus University Hospital and Regional Hospital West Jutland showed that women and elderly patients were the most likely to experience continuing symptoms following their recovery. 
"We saw that the prevalence of a longer lasting reduced taste and smell is significantly increased in patients with mild COVID-19 disease who did not require hospitalization," said Henrik Kolstad, who led the study. "This pattern is also seen for shortness of breath, but far fewer people were affected." 
Around the nation