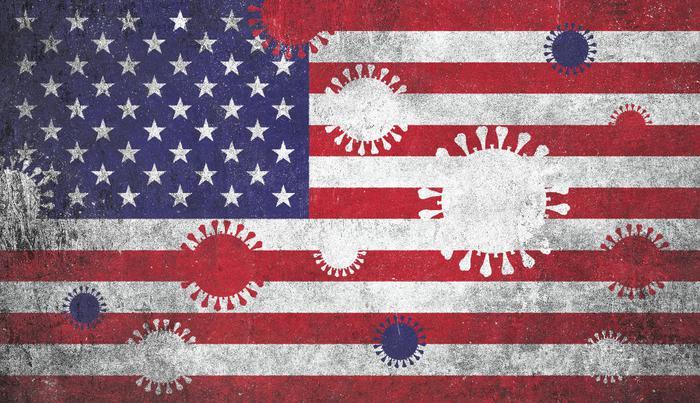 Coronavirus (COVID-19) tally as compiled by Johns Hopkins University. (Previous numbers in parentheses.)
Total U.S. confirmed cases: 20,649,941 (20,474,163 )
Total U.S. deaths: 351,774 (350,598)
Total global cases: 85,327,849 (84,838,747)
Total global deaths: 1,846,764 (1,839,622)
Hospitalizations begin the year at a record high
Americans were more than happy to say goodbye to 2020, but 2021 is starting off the way the old year ended, with increasing cases of the coronavirus (COVID-19) and a record number of people being treated in the nation's hospitals.
On Sunday, health officials counted a record 125,544 people being treated in U.S. hospitals for the virus. There were more than 210,000 newly reported cases of the virus on Sunday.
Deaths attributed to the virus continue to rise at an ever-faster pace. There are a total of more than 351,000 fatalities so far, with nearly 80,000 occurring in December, making it the deadliest month since the pandemic began. 
Officials seek faster vaccine rollout
The U.S. Food and Drug Administration (FDA) is considering a number of measures to speed up the distribution of vaccines against COVID-19. The agency will meet later in the week to consider a proposal to cut Moderna's initial dose in half when administered to people between the ages of 18 and 55.
Moncef Slaoui, chief scientific adviser of Operation Warp Speed, the U.S. government's vaccine program, told CNN that the move would allow twice as many people in that age group to get initial protection while the drugmaker ramps up production.
So far, about 4 million people in the U.S. have received either the Moderna vaccine or the one produced by Pfizer and BioNTech. Earlier estimates predicted 20 million Americans would be vaccinated by the end of December.
Air travel hits post-pandemic high
Despite health officials' pleas not to travel over the end-of-year holidays, Americans apparently did anyway. The Transportation Security Administration (TSA) reports that more than 1.3 million people passed through its checkpoints on Sunday.
Dr. Anthony Fauci, head of the National Institute for Allergy and Infectious Disease (NIAID) has warned that cases of the coronavirus are likely to spike in the coming days because of the increase in travel. 
Still, air travel is nowhere what it was before the pandemic struck with full force in March. Airline executives predict passenger traffic will drop sharply again now that the holidays are over.
What to do while waiting for the vaccine
The coronavirus vaccines are going to high-priority groups, and the process is going more slowly than first predicted. That may leave you wondering when you're going to get the vaccine and what you should be doing in the meantime.
Rehabilitation psychologist Abigail Hardin, PhD., at Rush University Medical Center, has offered a list of five things to do while waiting for the vaccine -- even after getting the first dose and before it takes effect. They include maintaining good health but planning for the eventuality of getting the virus.
"Continuing to take protective measures like social distancing and masking will help protect you, your loved ones, and the community while you wait for your first dose and for the vaccine to take full effect," she said.
Larry King treated for COVID-19
Broadcast journalist Larry King is one of the latest celebrities to contract COVID-19. King was hospitalized last week in California after being diagnosed with the virus.
On an encouraging note, King's family said the retired CNN interviewer has been moved out of the intensive care unit (ICU), suggesting his condition is improving. He reportedly got the virus from a health care worker who came to his home.
An increasing number of elderly celebrities have become infected. Country music legend Charlie Pride and actress Dawn Wells, who starred as Mary Ann in the 1960's sitcom "Gilligan's Island," both died of COVID-19 issues in the last 30 days.
Around the nation
Texas: Three days into a new year, Texas has broken a record for COVID-19 hospitalizations. As of Sunday, there were 12,563 people in a hospital within the state. Health officials say new cases and positivity rates are also moving in the wrong direction.

Massachusetts: Officials at three large hospitals in Worcester say they have believed for several weeks that a mutant strain of the coronavirus was in the state and spreading. They say the virus spread in spite of strict mitigation protocols.

Illinois: Restaurants in the state say they're suffering from the continued ban on indoor dining, a ban put in place in October. Eateries in cities near the border with Indiana say they've lost take-out service because many consumers are driving to Indiana where there are fewer restrictions on indoor dining.