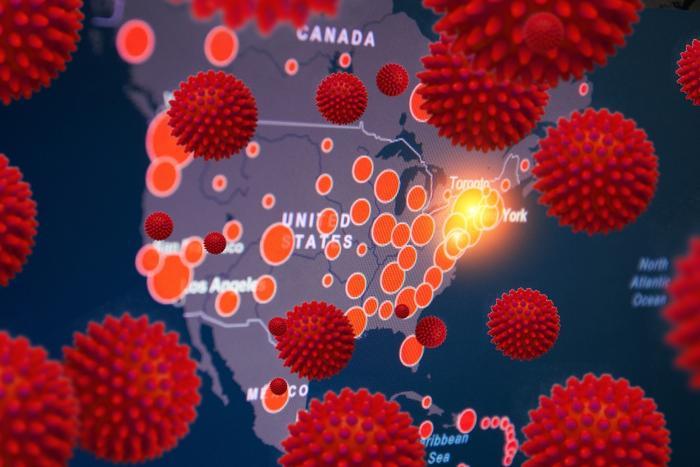 Coronavirus (COVID-19) tally as compiled by Johns Hopkins University. (Previous numbers in parentheses.)
Total U.S. confirmed cases: 1,876,922 (1,856,118)
Total U.S. deaths: 108,334 (107,281)
Total global cases: 6,682,531 (6,551,290)
Total global deaths: 392,321 (386,795)
Protest marches trigger health worries
In the last 24 hours, health officials have counted just over 1,000 additional deaths from the coronavirus (COVID-19), and they fear the number of cases may follow deaths higher within days. That's because of the widespread protests across the country in the wake of George Floyd's death while being arrested by Minneapolis police officers.
Health experts worry that the protests will serve to spread the virus. They point to tightly packed groups of marchers, often not wearing masks, and shouting -- which more easily spreads the infection.
Worse still, they say people who have been arrested have been packed into tight quarters where an infected person could easily spread the infection to others. Experts say they'll be watching the case numbers a week from now to see if their worst fears have been realized.
Vice President Pence doesn't rule out more stimulus aid
The Labor Department's shocking May employment report has convinced some economists that the U.S. is recovering from the coronavirus shutdown much faster than anyone expected. But that doesn't mean Americans won't be getting more help from the government.
Appearing on CNBC this morning, Vice President Mike Pence said the Trump administration will continue to negotiate with House Democrats about the need for coronavirus relief.
"We're going to work in good faith to put the interests of the American families and American businesses first," Pence said.
The government reports that the economy added 2.5 million jobs in May when economists expected the number of job losses to be in the millions.
Fewer homeowners asking for mortgage forbearance
The number of homeowners enrolled in mortgage forbearance programs as of Tuesday was 4.73 million, according to data analytics firm Black Knight. That's a decrease of 34,000 over the past week, marking the first weekly decline since the crisis began.
"The decline was actually greater among government-backed mortgages, which saw 43,000 fewer total forbearance plans than last week, but this was partially offset by an increase of 9,000 new plans on mortgages held in bank portfolios and private-label securities," said Black Knight CEO Anthony Jabbour.
Despite the good news, Jabbour says the report shows a drop in the number of homeowners making their mortgage payments on time in May than in April.
CDC chief 'very concerned' Americans' behavior could cause cases to spike
As the economy opens up across the country, Robert Redfield, director of the Centers for Disease Control and Prevention (CDC), said he's "very concerned" that Americans are abandoning precautions put in place over the last three months.
In a hearing before the House Appropriations Committee, Redfield said he has seen "a lot of people" not wearing masks in Washington, D.C. Additionally, he expressed concern that Memorial Day, recent protests, and Saturday's SpaceX launch have led to the formation of crowds. 
Apple reportedly testing returning staff for COVID-19
As Apple employees begin returning to offices, the company is reportedly testing them for the coronavirus. Bloomberg News cites people knowledgeable about the policy as saying the testing is optional, but wearing a mask at work is not. Office snack rooms are also being closed.
Apple began reopening the main Apple Park office in May, bringing back some hardware and software engineers. If they choose, they can undergo a nasal-swab test to check for the virus, according to people familiar with the process. Temperature checks are required.
Around the nation
Kentucky: Attorney General Daniel Cameron, a Republican, is asking state lawmakers to place limits on the emergency powers Gov. Andy Beshear, a Democrat, has used over the past few months to deal with the coronavirus pandemic. Cameron said there are currently inadequate checks on the governor's emergency power.

Pennsylvania: Gov. Tom Wolf says that more counties will be allowed to enter the "green" phase of his pandemic reopening plan, which allows greater public activities. That's in addition to the 16 that he already announced will enter that phase today. So far, 34 counties are under the "green" phase.

Virginia: Most of the state entered Phase 2 of coronavirus restrictions today as Virginia sees its number of cases rising toward 50,000. Under Phase 2, restaurants can have outdoor seating at 50 percent capacity and gyms can have indoor workouts and classes at 30 percent capacity.