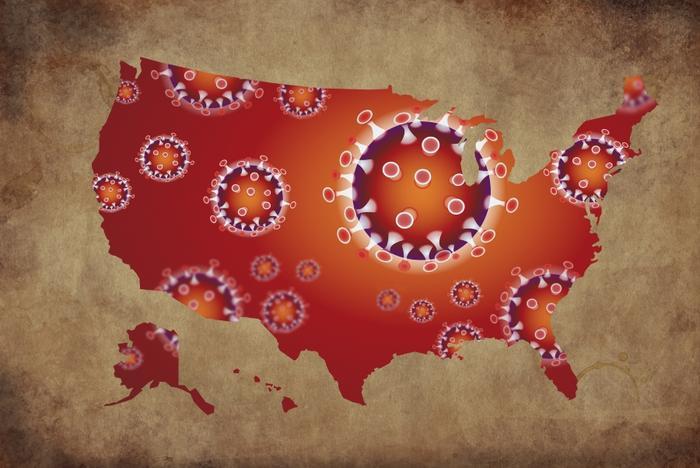 Coronavirus (COVID-19) tally as compiled by Johns Hopkins University. (Previous numbers in parentheses.)
Total U.S. confirmed cases: 1,793,780 (1,725,656)
Total U.S. deaths: 104,450 (101,706)
Total global cases: 6,206,773 (5,851,494)
Total global deaths: 372,752 (361,270)
Health officials worry protests will spread virus
Nationwide protest marches erupted in violence in many cities. But in addition to the destruction to property, health officials worry that the mass gatherings will lead to a spike in new cases of the coronavirus (COVID-19).
"I think there's going to be a lot of challenges coming out of the events of the past week," former Food and Drug Administration Commissioner (FDA) Dr. Scott Gottlieb said on CNBC.  "One of them's going to be that probably chains of transmission will have gotten lit by large gatherings. I don't think there's really a question about that."
The protests began in Minnesota, where a black man named George Floyd died after a police officer knelt on his neck while arresting him. Gottlieb said Minnesota is already struggling to contain an outbreak of the virus.
Eli Lilly starts trial on new drug
Pharmaceutical giant Eli Lilly has announced the first clinical trial of a new drug made from antibodies taken from patients who have recovered from the coronavirus. The drug takes advantage of the molecular defenses developed by recovered patients.
Part of a future test will determine whether administering the drug to the at-risk population before they get sick could prevent them from getting the virus, or have only mild symptoms if they get sick.
The Eli Lilly experimental drug is just one of several in development that uses proteins in the blood called antibodies. These proteins are part of the body's immune system that fights off viruses and other diseases.
Gas supplies are plentiful despite more drivers on the road 
The recent rise in gasoline prices has been tied to more states reopening after a two-month coronavirus shutdown, but industry analysts say they have yet to see signs of a surge in demand that would drive prices much higher.
In fact, just the opposite appears to be the case. Patrick DeHaan, head of petroleum analysis at GasBuddy, has been following the gasoline supply numbers closely. Over the weekend, he reported on Twitter that GasBuddy's gasoline demand numbers showed a 5 percent drop from the previous Friday, when demand for fuel should have been rising.
"While gasoline demand has rebounded off lows, yesterday's U.S. demand was down 29.25 percent from a year ago," he tweeted on Saturday.
Report: Workers remain resilient during the shutdown
A new survey of workers conducted by the ADP Research Institute shows that an initially significant decrease in worker confidence appears to be leveling off despite the impact of the COVID-19 pandemic. 
The survey explores employee sentiment after workers suddenly had to begin working from home, looking at how the abrupt change affected their productivity, their confidence about how long they may experience the effects of the crisis, and how their employer responded to the pandemic. 
The survey found that stress levels, work/life balance, and productivity are starting to stabilize instead of getting worse. In fact, the majority of workers believe their financial concern is short term, even for those not working right now.
Frontier is taking passengers' temperature
Frontier Airlines has become the first domestic carrier to check the temperature of all passengers boarding its aircraft, looking for signs of fever. The company said it's taking that step to increase peace of mind in the traveling public. The policy began today.
"Screening will be done via touchless thermometers," the company said in a statement. "Anyone with a temperature of 100.4 degrees or higher will not be allowed to fly, including crew members."
Previously, the airline required all passengers and flight crews to wear face masks, and it increased disinfection procedures and added antibacterial hand soaps.
Around the nation
Ohio: Romance rules in Ohio where state officials have lifted some restrictions on weddings. Up to 300 wedding guests will be allowed, but there is to be no dancing or mingling at the reception.

Louisiana: State health officials may decide this week whether to proceed to phase 2 of the state's reopening. That step would allow non-essential travel, reopening of summer camps, and large event venues that maintain distancing protocols.

Wisconsin: The state health department reports that there were just 173 new confirmed cases of the coronavirus Sunday, the lowest one-day total in two weeks. Four more people have died from the virus across the state, significantly fewer than the number announced in any of the past few days.