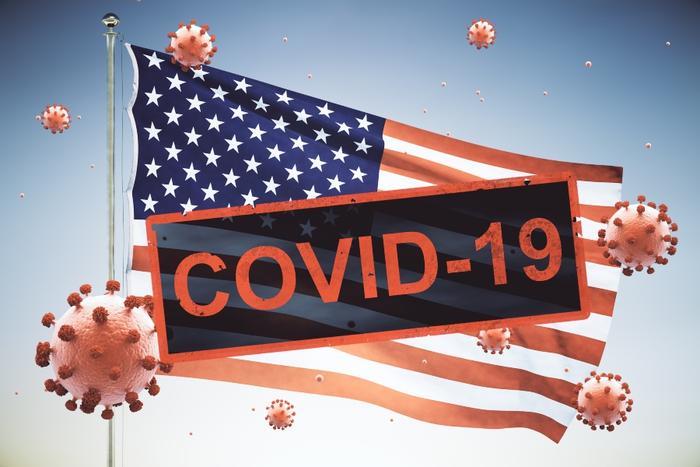 Coronavirus (COVID-19) tally as compiled by Johns Hopkins University. (Previous numbers in parentheses.)
Total U.S. confirmed cases: 7,288,166 (7,241,449)
Total U.S. deaths: 208,025 (207,147)
Total global cases: 34,374,469 (34,048,240)
Total global deaths: 1,024,426 (1,015,429)
President Trump, first lady test positive
In an early morning tweet, President Trump said he and first lady Melania Trump have both tested positive for the coronavirus (COVID-19).
Friday morning the White House reported that the president is experiencing mild symptoms of the virus that has killed more than 208,000 Americans. Melania Trump earlier tweeted that both she and her husband were "feeling good."
In a statement Friday morning, White House physician Dr. Sean Conley said the president and first lady were both "well at this time" and that the president would continue to carry out his official duties.
Hiring slowed in September
The Labor Department reports that the economy added 661,000 jobs in September, a slowdown from previous months. The report also comes amid a new round of layoffs as businesses continue to struggle with the economic effects of the coronavirus.
The unemployment rate declined by 0.5 percent to 7.9 percent, and the number of unemployed persons fell by 1 million to 12.6 million. The economy has added about 11 million jobs since the pandemic began, roughly half the number of jobs that have been lost.
The biggest gain in employment last week occurred in the leisure and hospitality sector, which added 318,000 jobs. Almost two-thirds of those jobs occurred at restaurants and bars.
New York City apartment sales plunge
There's fresh evidence that residents of America's largest city are seeking greener pastures now that employees no longer have to commute to a skyscraper. Sales of Manhattan apartments plunged 46 percent in the latest quarter, according to a real estate industry report.
The report from Compass shows a record 10,000 apartments are for sale in Manhattan, one of the few places in the country where real estate inventory is increasing, not shrinking.
"There is no shortage of apartments for sale, but there is a shortage of buyers," Jonathan Miller, CEO of Miller Samuel, told CNBC.
New Jersey hospitals engulfed in red ink
A report from the New Jersey Hospital Association shows that COVID-19 continues to have deep and lingering financial impacts on hospitals throughout the state. An analysis of financial data shows that nearly 60 percent of the state's hospitals in the red have losses averaging 4 percent.
New Jersey, like neighboring New York, had to deal with a surge in hospitalizations early in the pandemic, but it has seen serious cases decline in recent months. Still, the experience of New Jersey hospitals might not be all that different from many other states.
"COVID-19's fiscal impact on our hospitals reaches historic levels," said Sean Hopkins, an executive in the association's analytics division. "The last time we saw margins dip this deep into the red was in the late 1990s when hospitals sustained deep federal payment cuts under the Balanced Budget Act of 1997. At that time, we saw margins fall to negative 1.7 percent and negative 2.3 percent in 1998 and 1999, which pales in comparison to the numbers we're seeing today."
The pandemic's other potential health effects
Researchers at Johns Hopkins Bloomberg School of Public Health report that the coronavirus pandemic has resulted in a significant drop in doctor-patient visits, even with the increased use of telemedicine. As a result, they say people may not be getting the treatment they need.
Primary care consultations fell by more than 21 percent during the second quarter of 2020, compared with the average second-quarter visit volume from the second quarters of 2018 and 2019. That drop occurred despite a large, simultaneous surge in telemedicine, which increased from almost zero in prior years to about 35 percent of primary care visits from April through June 2020.
Appointments to monitor blood pressure dropped by about 50 percent, and cholesterol assessments were down by about 37 percent. "The results suggest a potential collateral effect of the COVID-19 pandemic—greater undiagnosed cardiovascular disease and less risk-factor monitoring than typically takes place through office-based primary care," the researcher concluded.
Around the nation
Arizona: State health officials say all counties now meet the benchmarks for safely reopening some businesses. Indoor gyms and fitness centers, bars serving food, and movie theaters that were ordered to close to slow the spread of COVID-19 were allowed to reopen Thursday because of a statewide decline in cases.

New York: Twenty-one ZIP codes in New York are now considered to be "areas of concern" in what Gov. Andrew Cuomo calls an alarming increase in cases. Nearly half the ZIP codes are in New York City, which this week resumed indoor dining at restaurants.

Georgia: The Georgia State Fair opens today with a new set of rules for the pandemic. There will be temperature checks for everyone entering the fairgrounds, and wearing a mask is mandatory.